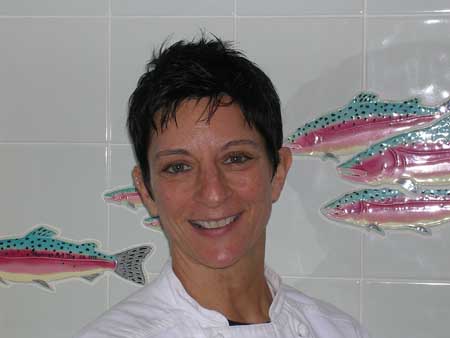 Allyson Thurber
Executive Chef
The Lobster

Allyson began her culinary training in Sacramento restaurants in 1980. Then on to NYC in 1984 where she worked at two of the cities most famous restaurants of the time, Mortimer's and an American Place.
After graduating valedictorian from the Culinary Institute of America in 1988, she took a position as Sous chef in London's diplomat Restaurant on Grovsner Square where she got her first real taste of an all seafood atmosphere. It was back to Los Angeles in 1990 where she worked as sous chef under famed chef Thomas Keller at Checkers hotel, before being offered the position at the Water Grill restaurant as Executive Chef. She was chef there for 6 years before being lured to the prestigious Striped Bass in Philadelphia. She was named the best new chef in Philadelphia at this time.
She decided to return to Los Angeles in 1999, and shortly after was named Executive Chef at the Lobster Restaurant in Santa Monica.
Thurber continues to receive praise from national food writers for her classically inspired seafood dishes. The Lobster restaurant was named best seafood restaurant in Southern California by Gourmet magazine in 2000, best seafood restaurnat for 3 years in a row by city search voters, and she continues to make appearances on television including the T.V. Food network, "The Morning Show", and great chefs of Philadelphia on PBS. She has also been featured chef at the James Beard House in New York City.
In her spare time she trains and competes in triathalons and volunteers and mentors for the Leukemia and Lymphoma Society here in Southern California.