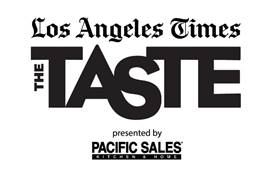 LOS ANGELES TIMES'
THE TASTE RETURNS LABOR DAY WEEKEND,
AUGUST 31-SEPTEMBER 2!
WHAT: LOS ANGELES TIMES' THE TASTE 2018
Los Angeles Times' The Taste is an annual food festival celebrating the flavors of the world in Southern California style. Hosted by The Times' editorial staff and acclaimed L.A. chefs and bartenders, The Taste will transform Paramount Pictures Studios into the ultimate epicurean pop-up and block party over Labor Day weekend (August 31-September 2). Each ticket grants access to unlimited tastings from the hottest pop-ups, collaborations and pairings from chefs and restaurants around the city.
The festival will also pay homage to the late Jonathan Gold, who helped us discover the incredible food and people in our backyard and showed the world that Los Angeles is one of the most exciting places in the world to eat. The Taste will be honoring Jonathan Gold on site with:
A special tribute wall in Café L.A. Times. Attendees will be encouraged to share what Jonathan Gold meant to them.


A light installation displaying Jonathan Gold's 5 rules for dining in L.A.


Several restaurants will be serving special dishes inspired by Jonathan Gold, including Faith & Flower, Herringbone, Chiguacle Sabor Ancestral de Mexico and Pacific Dining Car.
LA Times' The Taste has adopted The Collins College of Hospitality Management and L.A. Regional Food Bank as charity beneficiaries for the 2018 event. The Taste is taking steps to reduce the environmental impact of the event with the help of Zero Waste Co., which is providing compost bins throughout the event and inside kitchen tents, and will be taking discarded food, compostable plates, cups, bowls, napkins and paper towels and turning these materials into beneficial soil amendment that helps grow healthy crops that nourish our communities.
PLEASE NOTE:
ALL EVENTS AT THE TASTE ARE 21 YEARS AND OLDER ONLY
WHEN: FRIDAY, AUGUST 31 – SUNDAY, SEPTEMBER 2
EVENTS:
The Times' ninth-annual food and wine festival will showcase chefs and restaurants who have helped make Los Angeles one of the most exciting places in the world to eat and will feature 3 distinct evenings:
FRIDAY, August 31 (7:30 p.m. – 10:30 p.m.)
L.A.'s pop-up and underground restaurants will take the stage with a demo of Cajun-by-way-of-Compton cuisine from chef Michael Lawless (Shad's New Cali Catering), hosted by Times food editor Jenn Harris


Ludo Lefebvre (Trois Mec, Ludo Bird) will showcase his French flair


Ricardo Zarate (Rosaliné) and Jonathan Yao (Kato) will provide a glimpse of what makes their dishes imminently Instagram-able


Cari Hah (Big Bar) will showcase how to make the ultimate martini


White Wines of Italy will be discussed in great detail with Ira Norof of SCE, CWE and Southern Glazer's Wine and Spirits, Diane DeLuca of Frederick Wildman & Sons and Giancarlo Lauro of Southern Glazer's


Vito Lacopelli of Prova Pizzeria will demo how to make the perfect pizza
Samplings from restaurants include: Otium, The Bellwether, Hinoki & the Bird, Pacific Dining Car, Ocean Prime Beverly Hills, FARMHOUSE, Highly Likely Café, Nerano, Michael's Santa Monica, Poppy & Rose, Paramount Coffee Project, Yarrow, Pearl's BBQ, Woodley Proper, Bone Kettle, Mainland Poke, Mexicali Taco & Co., Wanderlust Creamery, Umu by Hamasku, Casa Vega, Baltaire, Chao Krung, Puesto, Pop's Bagels, Amor y Tacos, Bar Garcia, Blue Ribbon Sushi Bar & Grill and more.
SATURDAY, September 1 (7:30 p.m. – 10:30 p.m.)
Briana Valdez (HomeState) celebrates breakfast all day with a demo of her signature dishes with Jenn Harris, Times food editor


Sommelier Ira Norof and J. Wilkes Winery's Wes Hagen will give you 101 reasons to drink wine


drienne Borlongan (Wanderlust Creamery) will have an ice cream social


Burt Bakman of Trudy's Underground BBQ will showcase his BBQ with a cooking demonstration hosted by LA Times Food writer Andrea Chang
Samplings from restaurants include: Granville, Coni'Seafood, The Exchange at Freehand LA, Herringbone Santa Monica, Kali Restaurant, Prawn Coastal, Gus's World-Famous Fried Chicken, Jaffa, Cento Pasta Bar, Winston Pies, Trois Mec, Melody, Tumbi Craft Indian Kitchen, Rappahonnock Oyster Bar, Sichuan Impression, Citizen Beverly Hills, Roe Seafood, Komodo, Maple Block Meat Co., Madre Oaxacan Restaurant and Mezcaleria and more.
SUNDAY, September 2 (7:30p.m. – 10:30p.m.)
Experience the diversity of flavors in our fair city when Sean Lowenthal (Little Beast Restaurant) and L.A. Times Test Kitchen Director Noelle Carter highlight Southern cooking


Delicious food will be the special of the night as Niki Nakayama and Carole Iida-Nakayama (n/naka) showcase Japanese cuisine


Minh Phan (Porridge + Puffs) shares her technique for elevating porridge with KCRW Good Food's Evan Kleiman


Charles Olalia (Rice Bar/Ma'am Sir) gives a master class on Filipino cuisine


Wine expert Christine Dalton will raise a glass to rosé and Kim Stodel (Providence) will share how to make a zero-waste cocktail
Samplings from restaurants include: Banh Oui, Luv2Eat Thai Bistro, Inko Nito, Hotville Chicken, Jitlada, Wolf, Guisados, Commerson, 71Above, Brack Shop Tavern, Faith & Flower, Bulgarini Gelato, The Arbour, Lao Tao, Manuela, Bourbon Steak, Avec Nous, Momed, The Arbour, WOOD, Lao Tao, Kobee Factory, Yardbird Southern Table & Bar, Meals by Genet and more.
For a detailed description of each event and full lineup of participating chefs and restaurants, visit

http://extras.latimes.com/taste/
WHERE: PARAMOUNT PICTURES STUDIOS BACKLOT
783 N. Van Ness St Los Angeles, CA 90038
TICKETS:
Available at:
http://extras.latimes.com/taste/
Friday, August 31st General Admission (7:30p.m. – 10:30p.m.) - $115
Saturday, September 1st General Admission (7:30p.m. – 10:30p.m.) - $115
Sunday, September 2nd General Admission (7:30p.m. – 10:30p.m.) - $115
SOCIAL MEDIA:
Please support The Taste via social media by connecting on
Facebook
,
Twitter
and
Instagram
@ TheTasteLA (#TasteLA)!
For map and location click

Here!