Anastasia Beverly Hills Open-Air Pop-Up Shop Arrives at
Santa Monica Place
Shop exclusive beauty deals through September 21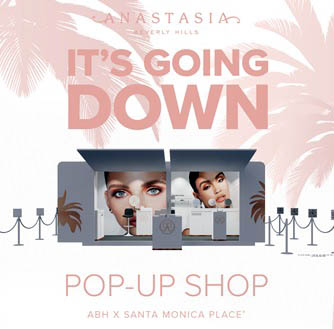 WHAT
Santa Monica Place announces the new Anastasia Beverly Hills (ABH) pop-up shop, located in Center Plaza on Level 1. The beauty pop-up shop offers prestige cosmetics, new products and exclusive deals on signature brow pencils, makeup palettes, gift sets, and more.
WHEN
Now through September 21
Monday – Saturday 11 am – 7 pm and Sunday 12 – 6 pm
WHERE
Santa Monica Place is located at 395 Santa Monica Place, Santa Monica, at Broadway and Third Street Promenade. The Anastasia Beverly Hills Pop-Up is located on Level 1 in Center Plaza.
MORE INFORMATION
For more information, visit SantaMonicaPlace.com or interact with us via Facebook, Instagram, or Twitter. Access our Concierge services anytime via text: (310) 499-2928. More information about the Anastasia Beverly Hills pop-up at Santa Monica Place is available here.
About Anastasia Beverly Hills
Anastasia Beverly Hills (ABH) was launched in 1998 by Romanian-born beauty pioneer, entrepreneur, founder and CEO Anastasia Soare with her signature eyebrow shaping technique, the [patented] Golden Ratio method, and products that help to create and maintain the ideal brow shape. Over the past two decades ABH has become one of the most lauded brands in beauty, revolutionizing the industry with an extensive and inclusive collection of brow solutions and makeup that focus on proportion. Today, Anastasia has achieved iconic status as the definitive brow expert and has a cult following of celebrities, including Amal Clooney, Naomi Campbell, Jennifer Lopez, Oprah, and Kim Kardashian. ABH is available in more than 2,500 stores in the US, including Sephora, Nordstrom, and Ulta, and more than 25 countries around the world. They are committed to cruelty-free product formulation, testing, and development.
About Santa Monica Place
Located steps away from the Pacific Ocean and iconic Santa Monica Pier, Santa Monica Place is a unique, outdoor shopping destination, home to Bloomingdale's, Nordstrom, Louis Vuitton, Tiffany & Co., Nike, and a collection of specialty shops, digitally native brands and inspired dining concepts.