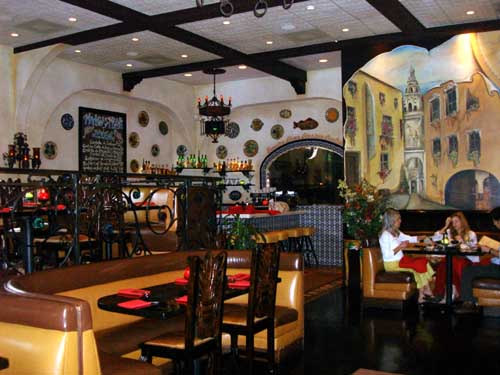 Located on La Cienega Blvd, The Spanish Kitchen is an elegant oasis in the midst of the hub of Los Angeles . With its authentic décor and beauty, The Spanish Kitchen is a veritable canvas on which they can express the varied strokes, flavors and textures of their graceful Mexican cuisine. Great ambience, gorgeous bar and stunning touches of the Mexican earthbound colors, all of the elements are in place to execute the Mexican experiential dining vision. The bar serves has a large selection of beer, wine, Champagne , tequila, Madeira , Ports and vodka. The El Tesoro Silver Tequila and the El Patron Silver Tequila are absolutely the best!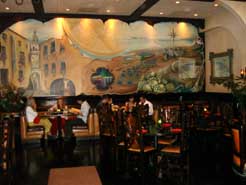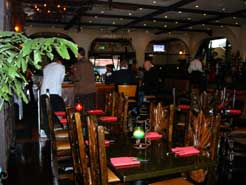 The food was delicious and the atmosphere called for a fun evening, sharing the best Mexican plates of divine flavors. We had a nice evening that invited lots of drinking and camaraderie.
The service was gracious yet unpretentious; it is a hallmark of The Spanish Kitchen dining experience. Under the caring watch of their service team, guests' needs will be met without assuming an air of over familiarity or affectation.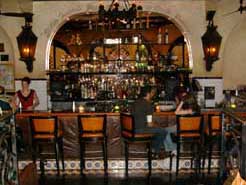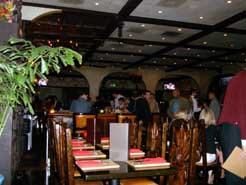 I truly enjoyed this place, and I will tell you all about our unforgettable dining experience. We always started at the bar, and oh my God, I had the best margarita you can find, with the most amazing tequila, it was so good and perfect to open my appetite and we just could not wait for diner.
The talented Chef de Cuisine; Luis Castro was introduced to us, and I had the opportunity to talk to him in Spanish, and to explain what we would like and also to ask him for his suggestions for our dinner.
We always ask for a selection of their most popular appetizers from the Platos Pequenos (small places) menu and we had many great dishes that were truly a feast to our eyes; We wanted to try a little bit of everything, because The Spanish Kitchen is Mexican and they have so many dishes, that this was my chance to visit all of Mexico in one meal!
When people say; a picture can say a thousand words, just take a look at our
Platos Pequenos appetizers. We had the Langosta y Crepas the Chocolate; a Mexican Cocoa Crepe filled with Sautéed Lobster, Leeks and Machego Cheese served with a Tequila Lobster Cream Sauce, do I need to say that this was a
dream dish? Absolutely the best and I would certainly recommend this one,
it is a must have, don't miss it.
Then we had the Camarones y Tamarindo a delicious grilled Shrimp glazed with Tamarindo and Pineapple served in Mini Tortilla Cups filled with a Salsa of Cucumbers, very tasty and delicious.




Lobster Crepe, Tamale, Chile Relleno, Shrimp, Taquitos

The Bell Peppers and Onions on top of a Grilled Nopal (cactus paddle); the Chile Relleno de Camarones; a Mexican Beer Battered Roasted Poblano Chile , The peppers were incredibly soft, making it easy to eat, they were stuffed with Shrimp, Mushrooms, Tri-Colored Peppers, Shallots and Manchego Cheese served with a Red Pepper Sauce. Chive Oil and Crispy Leeks, Blue Corn Chicken Taquitos, WOW! This dish rocks! They were Crispy Blue Corn Tortillas filled with Mesquite Smoked Chicken, Mushrooms, Onions, Herbes and Queso Quesadilla served with Salsa Quemada and Crèma Mexicana stuffing of lightly spiced potatoes and peas inside
As far as salads, there were many great choices, but the chef sent us the Salpicon De Concrejo, Chilled Crab mixed with herbs and spices on top of a Mango-Avocado Salsa, what a great choice, very light and tender, and tons of succulent pieces of crab, that were deliciously spiced and fresh. I ate mine with their crispy and crunchy homemade tortillas! Simply the best!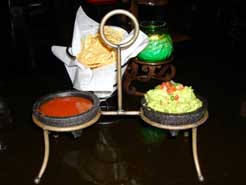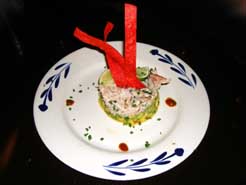 Salsa and Chips Chilled Crab

Did I mention we had the best Tamales? Yes, their Tamales were great, a
Sweet Corn Masa wrapped in a corn husk and served with a Salsa Poblano
and finished with Crema Mexicana and Ranchero Cheese.


And again Chef Castro, you were the best! Muchas Gracias por Todo! The
dinner was what I called my Mexican dream, per his suggestion I had what is
called their Especials de la Casa (house specialties), the Langosta al Carbon y Filete Relleno, I was in heaven! The Grilled Lobster with a Red Chili, Corn-Lobster Sauce on a bed of Garlic Spinach Filet of Tenderloin, stuffed with a Poblano Pesto served with Cream Cheese was the winner of the night! We just loved it so much, I have to say that this was the best Mexican Lobster dish that I ever had in Los Angeles!
If you are a Lobster lover, then you must try this one! Take a look at the
picture and tell me, isn't this amazing?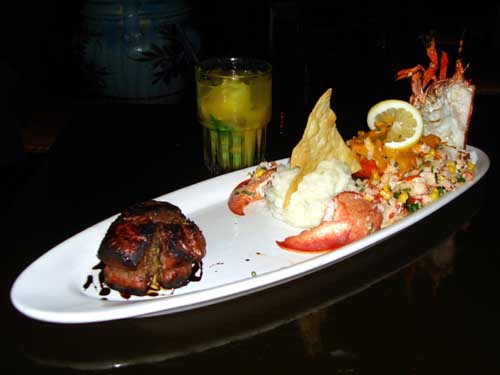 Grilled Lobster with Filet of Tenderloin


We also tried the Bomba Huachinango, A succulent Red Snapper Filet stuffed with Blue Crab Meat, Portobello Mushrooms, Herbs and Manchego Cheese, topped with a Poblano Cream Sauce, Minted Crema Mexicana and served with a Chipotle Potato Cake and Asparagus which was absolutely fantastic! Two people can share this dish.
Their portions are gigantic, and no matter your choice of appetizers, entrées, salads, or desserts you order, you can't go wrong at The Spanish Kitchen.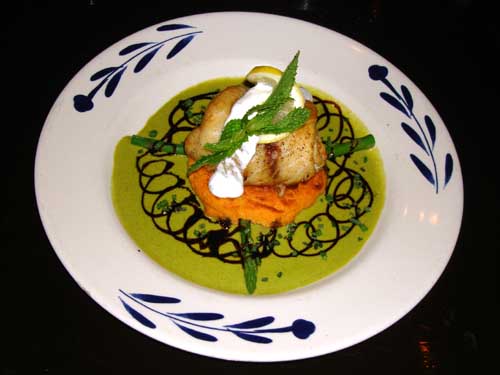 Red Snapper Filet stuffed withBlue Crab Meat

They also have Enchilada Mondays; featuring 14 unique gourmet plates served every Monday. The menu is great with a large variety of Enchiladas de Crabs, Cheese, Chicken, Steak, Pork, Smoked Beef, Shrimps, Vegetarian, Fish and Chorizo! Please, don't miss it! You only leave once!
There is also a Mariscos bar, serving the freshest in seafood and finest selection of Mescals. They offer their unique Ceviches and fresh Oysters. You must see to believe how great this is, having these dishes it is like transporting yourselves into Mexico and living such an spectacular culinary dream, that you must see to believe!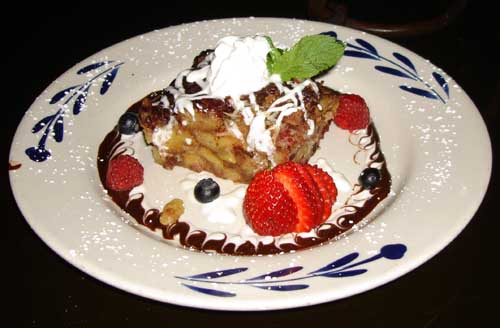 Capirotada (Bread Pudding)


Also, did I mention: Pasteles y Postres? (pastries and desserts), yes, we still had a place for desserts and the amazing chef Luis Castro sent specially to us the following:
Tembleque de Coco; what a presentation, it was so beautiful that I did not want to eat, but at the same time, yes, I wanted to try it, so we took pictures so that they will always be there for us to see and remember; A Coconut Custard served in a Fresh Cut Coconut, dusted with Cinnamon and served with a Vanilla Bean Cookie. Just make sure you save some space for dessert, because you can't miss this one either! Ah… the Capirotada; (Bread Pudding), this is also a must have, sorry guys, I am not kidding, this was the major Bread Pudding, tasting like the ones you mother make it, this Marbleized Bread Pudding with Peras Chinas (Chinese pears) and Chocolate served with a Mexican Brandy Vanilla Sauce and Whipped Cream…
Don't forget the Café y Tes (coffee and tea) there is a great selection of coffees and teas, that makes you not want to leave, and just stay to enjoy a bit more of the great ambience, and beautiful people surrounding you.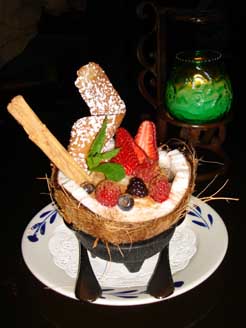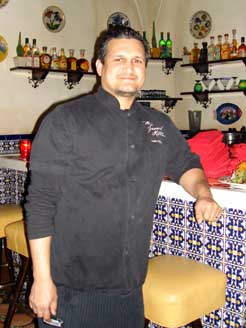 A Coconut Custard Chef Luis Castro


If you plan to have a party or any special event with the most delicious Mexican Food you ever had, I want to remind you that The Spanish Kitchen is THE PLACE to go! Whether it is an intimate gathering, or a large event, they have an in-house Event Coordinator that can help you plan.
Special Thank you to the greatest Chef Luis Castro and to the manager Gary Weddle who also manages their other restaurant: The Belmont Café, which we will be going next, and I will let you know all about it in our next adventure!

For map and location click Here!

For more information please visit their website at www.thespanishkitchen.com