Chef de Cuisine
The Ritz-Carlton, Marina del Rey
Jer-ne Kitchen: 310-574-4335
Fax: 310-823-3588
E-Mail: dakota.weiss@ritzcarlton.com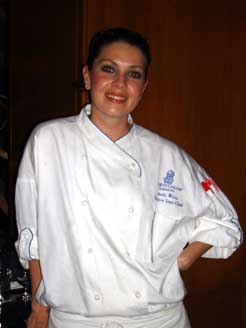 MARINA DEL REY (LOS ANGELES), Ca., February 24, 2005
(Revised April 12, 2006) – Since November 2006, Chef Dakota Weiss has been familiarizing herself with the culinary ambiance at Jer-ne Restaurant + Bar, and she is now ready to introduce her unique, creative and avant-garde approach to food to the restaurant's menu. Looking forward to her newest culinary adventure, Chef Weiss will bring her own style to New World cuisine with an emphasis on California and regional cuisines.
Dakota acquired her love for food when she gained an appreciation of fresh products, rising early to be the first to pick raspberries and apples from an organic orchard in her mother's backyard. This passion continues today, when she visits Los Angeles farmers' markets and fish purveyors early in the morning in search of the freshest ingredients available.
Suspense novelist Charmaine Coimbra, mother of Dakota Weiss, provides insight to her daughter's destiny, explaining that the moment Dakota was born in the California high desert, her mother's astrologer was bedside, recording Dakota's birth to the exact second. He said that Dakota's career would have something to do with a unique hat, and that she would use that hat in a creative and avant-garde manner. When Dakota's mother asked if her daughter was to be an artist, he said, "Not in the traditional sense." Thirty years ago, few, if any women were French-trained, toque-wearing, titled chefs. When Dakota graduated from Scottsdale Culinary School and was given her French toque, the astrologically predicted mystery unraveled.
Dakota graduated top of her class from the Scottsdale Culinary Institute and was the only Ritz-Carlton chef from America chosen to go to Shanghai for The Food, Wine and Fashion event. Weiss is a member of WCR (Women Chefs and Restaurateurs) association and during her nine year career has worked with culinary luminaries such as Chef Bruno Maynard at the AAA Five Diamond Dining Room at The Ritz-Carlton, Buckhead, celebrity chef Mark Miller at his Coyote Café in Santa Fe, New Mexico and Dean Fearing, executive chef at the Mobil Five-Star-rated The Mansion at Turtle Creek in Dallas.
With her destiny written in the stars and her diverse culinary background, it should come as no surprise that Weiss was selected to continue the refinement of New World cuisine.
For the last six years, Executive Chef Troy N. Thompson held dual roles as both the executive chef of The Ritz-Carlton, Marina del Rey and the chef de cuisine of Jer-ne Restaurant + Bar. Chef Thompson has resigned from his position at The Ritz-Carlton, Marina del Rey.
Jer-ne Restaurant + Bar is can be found by walking toward waterfront views through The Ritz-Carlton, Marina del Rey's main lobby. This award-wining, $4.2 million restaurant features unique design elements including French windows which open up to an outside veranda providing unobstructed marina views; a 25-seat bar designed in glass, wood and leather, hardwood floors and elegant halogen lighting throughout. The restaurant's dining room; a dynamic fourteen-foot Mexican Onyx communal table, internally lit; a private dining room with a hardwood table, silk carpets and glass doors; and an open-air veranda are perfect for group functions and catered events. For more information about Jer-ne Restaurant + Bar call (310) 574-4333.
The Ritz-Carlton Marina del Rey is Los Angeles' only Five-Diamond waterfront hotel, boasting panoramic views of the marina and the Pacific Ocean. The hotel is conveniently located 10 minutes from Los Angeles International Airport within close proximity of Santa Monica, Beverly Hills, and Hollywood. Fine dining, fitness center facilities (including an outdoor heated pool, lighted tennis courts, and spa services), and business services are offered in a relaxed yet refined atmosphere.
For reservations, please contact a travel professional or the hotel directly at telephone (310) 823-1700, facsimile (310) 823-2403 or visit the website at
www.ritzcarlton.com.