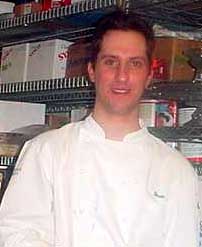 Chef de Cuisine 1 Pico Restaurant
Shutters on the Beach Hotel

One of my earliest childhood memories is of me stemming strawberries in my Dad's kitchen with the other cooks looking at me strangely. I grew up in the restaurant business; my dad was a successful chef with 3 restaurants in Orange County. At 13
I began working full time in my dad's new restaurant venture in Hemet, Ca where I learned the basics and beyond. My dad had over 50 years experience and taught me the fundamentals as well as taking pride in everything you do.
At 23 my dad died and we sold the restaurant a year later. I was running the kitchen with my brother but it was too much to take on at that time. I then spent a year in unfulfilling cooking jobs that I excelled at but wasn't challenged; the food and staff did not have the same expectations I did. They treated cooking as a job but not as a career.
I worked a year and a half at Café Champagne Restaurant at Thornton's Winery in Temecula, Ca. I was able to experiment with food and my coworkers enjoyed doing the same. It was a great experience that gave me confidence to try something bigger.
At 26 I decided to move to Los Angeles and started working at The Belvedere Restaurant at The Peninsula Hotel in Beverly Hills. I quickly worked my way up from a vegetable cook to a sous chef within a year. I spent the last 2 years as Chef de Cuisine of the fine dining restaurant where I defined my style and creativity of cooking.
Just recently I have joined Shutters on the Beach hotel as Chef de Cuisine of 1 Pico Restaurant where I will be continuing to provide the excellence that this hotel is built on. My focus is working with the seasons to insure the freshest product and also dedication to technique and execution to insure the finest and purist flavors of our cuisine. All this while also having fun with food and making it a creative culinary adventure for the guest.