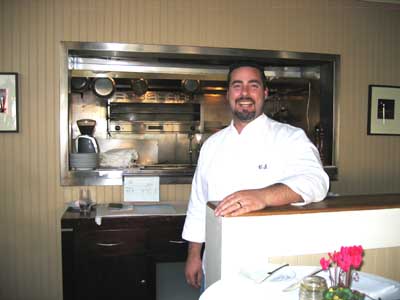 CHEF CHRISTIAN SHAFFER
CHEF/OWNER AVENUE AND
AUBERGE AT OJAI
Chef Christian Shaffer, owner of Avenue in Manhattan Beach, Calif. and the popular now shuttered eatery, Chloe, likes to look at the big picture and he has done just that with the opening of Auberge at Ojai which recently received a terrific **Star review from Los Angeles Times' food critic S. Irene Virbila. While venturing outside the cozy Los Angeles restaurant scene might appear to be a daring move for the 33 year-old Los Angeles native, given his past success, it and has afforded him the perfect stage on which to showcase his culinary vision. In addition, Shaffer and business partner John Langley (creator of the popular TV show COPS) will introduce their own wine under the Magpie label this April with a sauvignon blanc.
Chef Shaffer is always on a quest for the freshest ingredients and the boldest flavors. His talent for creating elegant yet accessible fare is just one of the reasons why
Gourmet, Bon Appétit, Food Arts, Town & Country, Los Angeles Magazine, Los Angeles Times, Angeleno
and
Los Angeles Confidential
have been giving him glowing accolades.
A native Angeleno, Shaffer began his cooking career at the young age of twenty when he entered the kitchen of Chef Miles Angelo at the North Beach Bar & Grill in Venice. There, he discovered a passion for cooking that would shape his career, and ultimately his destiny. After two years, Shaffer met mentor Josie Le Balch and began working at Remi in Santa Monica under her careful tutelage. What started as a professional relationship soon developed into a friendship that continues to this day. La Balch encouraged Christian to travel to Italy to perfect his craft, and nurture his passion for the culinary arts. Because of his respect her knowledge and experience, it was not long before he found himself on plane to his future.
During the next year at Trattoria Dal' Amelia in Venice, Italy, Shaffer honed his techniques and gained an appreciation for the freshest ingredients. "It was undoubtedly one of the best things I could have done for my career." When it came time for his apprenticeship to end, he headed back to the United States and immediately went to Patina, the most highly recognized restaurant in Los Angeles. It was there that award-winning Chef, Joachim Splichal quickly recruited Shaffer to his team. Patina was and still is the most highly recognized restaurant in city. While working with The Patina Group, Christian had the pleasure of working as Sous Chef of Pinot Bistro in Studio City and as Chef de Cuisine of Pinot Blanc in Napa Valley. He gives tremendous credit to Joachim as well as Octavio Becerra for defining the kind of chef that he is today.
Never one to rest on his laurels, Christian took the position as Executive Chef of Cicada Restaurant, located in downtown Los Angeles' famous Art Deco Oviatt building, considered to be the most beautiful restaurant around.
There he garnered a loyal following through his seasonal menus and innovative interpretations of classic Northern Italian cuisine that marry the traditional with the contemporary. Prior to opening Chloe in 2003 and Avenue in October 2004, Chef Shaffer was Executive Chef of Drake's Venice in the historical St. Marks building where he in just a short amount of time, his food received much recognition from top publications such as
Bon Appétit, Food & Wine and the Los Angeles Times.
Shaffer continues to win kudos outside the restaurant as well; Involved in several local a national charities including the Boys and Girls Club, Project Angel Food, Special Olympics, Meals on Wheels, and St. Jude's Children's Hospital. He resides in Playa del Rey with his wife, Tedde, who doubles as interior designer for their projects. The Shaffer's have a daughter, Piper.