Event #7 on the Women's Association of Surfing Professionals (ASP) World Champioship Tour.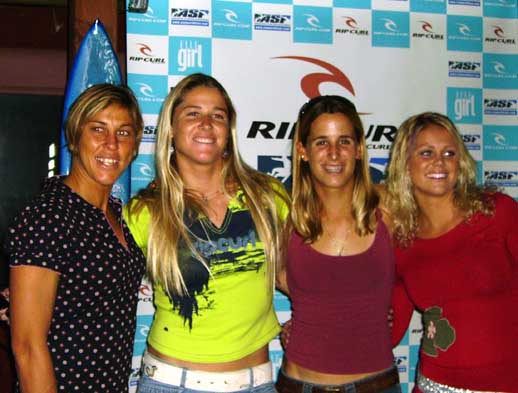 Women's WCT Action To Resume At Upcoming Rip Curl Malibu Pro
After a lengthy hiatus from World Championship Tour (WCT) competition, the world's best women surfers are readying themselves for competition and stop number seven on the Women's Association of Surfing Professionals (ASP) world tour: the Rip Curl Malibu Pro, held Oct. 1-9, 2005.
Mounting anticipation from both surfing and celebrity circles surround the second annual Rip Curl Malibu Pro which, due to it's strategic locale, will feature both world-class women surfers and Hollywood's wave-riding elite as they contest one of the world's most historic point breaks at Malibu, California's infamous Surfrider Beach.
The Rip Curl Malibu Pro is mainland America's only female stand-alone WCT event and in its second year, with a solid swell on the horizon, is set to provide the perfect viewing platform for all of the ensuing action.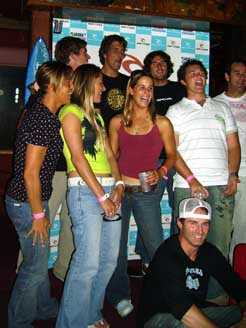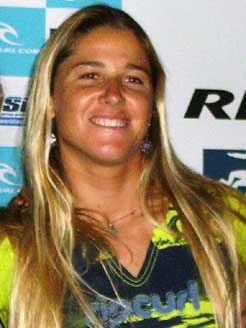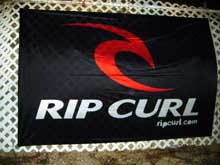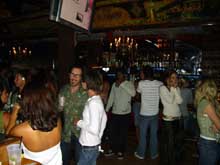 As the seventh of nine stops on the 2005 tour, the girls' performance at the Rip Curl Malibu Pro plays a pivotal role in both re-qualification for the WCT and this year's world title race. Reigning world champion Sofia Mulanovich (PER), current world number two Chelsea Georgeson (AUS), six-time world champion Layne Beachley (AUS) and 2004 world title runner-up Rochelle Ballard (HAW) are the only women still in contention for the crown. Each will be eager to increase her odds by winning in Malibu.
Intertwined with the Malibu Pro is Rip Curl's highly anticipated Celebrity Surf Bout. The landmark event was originally scheduled to run at Malibu on October 1, but officials eager to showcase Hollywood's hottest surfers in the best waves possible, have moved the date to the following Saturday - October 8 from 1pm-3pm. America's highest profile actors and musicians will battle it out in a tag team surf event that will crown Hollywood's hottest celebrity surfers. The beach is open to the public and contest officials are expecting thousands of spectators to converge on Surfrider Beach to watch their favorite celebrities go head-to-head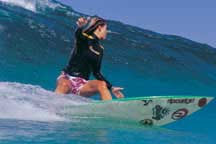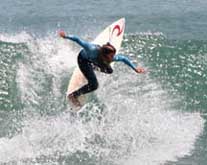 Prior to the main event and Celebrity Surf Bout, event organizers will run the Rip Curl Footwear Trials at neighboring beach Leo Carrillo on September 30. The winner of the trials competition will win wildcard entry into the Rip Curl Malibu Pro.
Among the trialists vying for main event entry will be Hawaiian teenager and shark attack survivor Bethany Hamilton. The 15-year-old, who lost her arm in a horrific shark attack two years ago, will compete in the Rip Curl Footwear Trials and captain one of the Celebrity Surf Bout teams. She will also attend the official Press Conference at the Malibu Inn this Friday, joining fellow teenage phenomenon Stephanie Gilmore (AUS), reigning and current world number one Sofia Mulanovich, reigning Malibu Pro champion Megan Abubo (HAW), Brazilian Jacqueline Silva and local Californian Julia Christian.
Despite the ability to run and finish the entire contest in two days, the Malibu Pro boasts a nine-day waiting period that will allow contest officials to watch conditions and hold the competition in the best possible waves on offer during the days allotted. With a very promising southern hemisphere swell forecasted to hit the Californian coastline late next week, Rip Curl and the ASP are confident that America's most historic wave will turn on at the right time. Check out the schedule below and stay tuned for updates!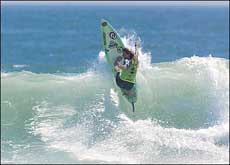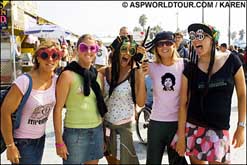 RIP CURL MALIBU PRO SCHEDULE
Rip Curl Footwear Trials
When: Friday, September 30. 8am start.
Where: Leo Carrillo
Rip Curl Malibu Pro Press Conference
When: Friday, September 30. 5pm-7pm.
Where: Malibu Inn - 22969 Pacific Coast Hwy, Malibu, California, 90265
Rip Curl Malibu Pro Launch Party presented by Elle Girl featuring Greyboy
When: Friday, September 30. 9pm-late
Where: Malibu Inn - 22969 Pacific Coast Hwy, Malibu, California, 90265
Rip Curl Malibu Pro WCT
When: Waiting Period runs October 1-9
Where: Main site at Surfrider Beach, Malibu / Back-up site at Leo Carrillo.
Tune into the live webcast of the Rip Curl Malibu Pro at ripcurl.com/malibu and aspworldtour.com