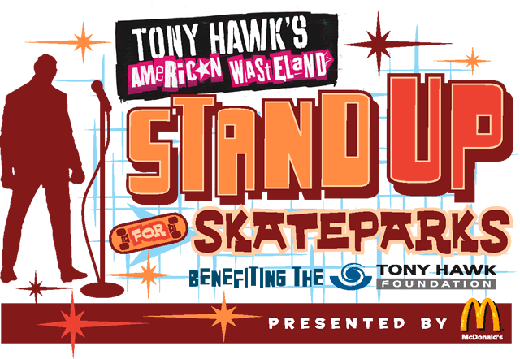 STAND UP FOR SKATEPARKS
Green Acres, Beverly Hills
Sunday, October 23, 2005
The Tony Hawk Foundation & celebrity co-chairs: TONY HAWK, SEAN PENN, JAMIE LEE CURTIS, DAVID SPADE, PAUL RODRIGUEZ, PHARRELL WILLIAMS, AND JON FAVREAU host the 2nd annual STAND UP FOR SKATEPARKS benefit.
Other confirmed celebrities: Lisa Kudrow, Pamela Anderson and John Mellancamp.
Green Acres, Beverly Hills, 12 noon to 4:00 PM
$200 Adult. $150 Child. $2,500 VIP.
Skate demos, flight simulator, rock wall climbing, bungee trampoline, live music, stand up comedy, and carnival.
Proceeds benefit the Tony Hawk Foundation mission to build high-quality public skateparks in low-income areas across America.
Contact: (949) 715-9843 or visit www.tonyhawkfoundation.org