Romantic Destinations in Mexico
Original source of this article in Spanish by:
Translated by: Marianne Klahre
There are numerous beaches offering the services and necessary infrastructure so that you may experience the best vacation of your life.
In Los Cabos you can spend some incredible days together. Its beauty and splendor, the selection of activities that can be carried out during the day and its nightlife are some of the reasons that qualify it as the ideal place for going away on your honeymoon. In its streets you can find restaurants, night clubs and establishments for golf and fishing fans.
Los Cabos has everything: five-star hotels that offer magnificent suites, bungalows on the beach, villas and luxury lodging with an ocean view.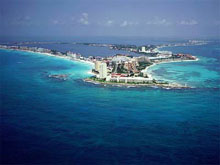 Cancun offers ocean, scuba diving, expeditions, culture, gastronomy and an exciting nightlife besides great enjoyment of water sports. It is on the top of modern tourism and covers the most beautiful marine landscapes in its outskirts. On one of its extreme ends, the beach touches the Caribbean Sea, on the other extreme end, the beach borders the Bay of Women .
From Cancun you can take excursions along the Mayan Riviera, where you may find temples, cities, monuments and sculptures of America 's most important civilization. It is made up of 130 kilometers of beach, natural reserves and tourist destinations of any kind.
From the airport of Cancun to Punta Allen, the voyage offers wonderful panoramas of archeological sites, flora and fauna. The Mayan Riviera also counts on exclusive and comfortable services in adventure tourism. Each destination has its own peculiarities and that is exactly what makes this trip more attractive.
Surrounded by a prodigious nature, Manzanillo is one of the most marvelous and merry beach resorts that exist to enjoy your honeymoon. Its beaches are blessed with fine sand and a soft surf. Visiting this port means enjoying nature in its greatest possible splendor, amidst an atmosphere full of traditions. It is a very pleasant city whose wonderful beaches constitute an important tourist attraction and are complemented by a complete range of first class services.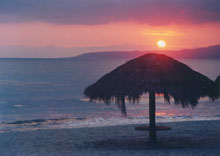 Puerto Vallarta has the atmosphere of a small and friendly village. Here peace , romance, human warmth and nature's beauty predominate. The most modern places are framed by the traditional cobblestone streets and the white buildings with their red-tiled roofs.
Puerto Escondido is another ideal place to spend your honeymoon, since it has great beaches - surrounded by an impressive nature transmitting an indescribable peace - beaches with fine and white sand, bathed by the crystal waters of the Pacific Ocean . All of this has helped the region to develop into one of the most important places in the south of Oaxaca . Continuing with the beaches of this state, you may visit Huatulco, which stands out due to its spectacular landscape, its secluded areas and the possibility to enjoy ecological tourism.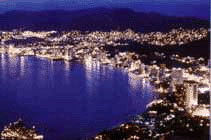 If you want a lot of fun, we cannot forget Acapulco , the adventure paradise without limits. You and your partner can explore and discover the exciting nightlife of this port. It offers more variety, emotion, entertainment and Mexican flavor than any other tourist resort in the country or in the world. You may also visit Ixtapa, relying on romantic sunsets and displaying natural settings full of flora and fauna. Its tourist infrastructure varies according to its restaurants, hotels and villas, which are located on the slopes of the hills and on the beaches along the scenic bay.
Original source of this article: Buzzofla.com