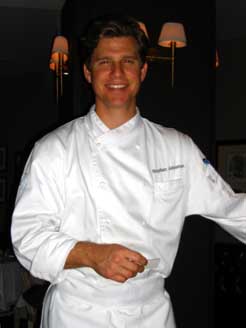 Stephen Johnston
Executive Chef
Sheraton Delfina

• BORN AND RAISED IN SAN DIEGO CA.
• STARTED AS A DISHWASHER AT AGE 16
• WORKED MY WAY THROUGH ALL STATIONS IN THE KITCHEN
• MOVED TO FRONT OF THE HOUSE AS A BUSSER THEN WAITER AND
BARTENDER
• DECIDED TO TRAVEL FOR WORK AND PLEASURE AND BEGAN A 4
YEAR JOURNEY THROUGH SOUTH EAST ASIA AND EUROPE
• RETURNED TO THE STATES TO GET AN OFFICIAL CULINARY DEGREE
AT JOHNSON AND WALES UNIVERSITY. GRADUATED IN 2001.
• INTERNSHIP WITH DEAN MAX AT 3030 OCEAN IN FT. LAUDERDALE,
FLORIDA
• OPENED BISTRO LAS OLAS IN FT. LAUDERDALE BEFORE RETURNING
TO SAN DIEGO IN 2002
• TOOK A SOUS CHEF POSITION AT DELICIAS IN RANCHO SANTE FE,
CA.
• WORKED UNDER CHEF BARRY LAYNE FOR 2 YEARS, THEN LEFT TO
OPEN MY OWN CATERING COMPANY, CULINARY CREATIONS, IN
SAN DIEGO
• CATERED TO AFFLUENT CLIENTEL, SPECIALIZING IN TASTING
MENUS AND CUTTING EDGE COCKTAIL PARTIES
• MOVED TO LOS ANGELES IN 2004 AND BEGAN WORK AT BLUE ON
BLUE AT THE AVALON HOTEL AS CHEF DE CUISINE
• TRANSFERRED TO THE SHERATON DELFINA AS EXEC. CHEF IN 2005
AND CURRENTLY WORKING THERE
• FOOD PHILOSPHY" I ENJOY FLAVORS AND COOKING TECHNIQUES
FROM AROUND THE WORLD. WE LIVE IN MODERN TIMES WHERE
THE WORLD HAS NO BORDERS. FRESH SEASONAL INGREDIENTS,
AND CLEAN BRIGHT PRESENTATIONS"