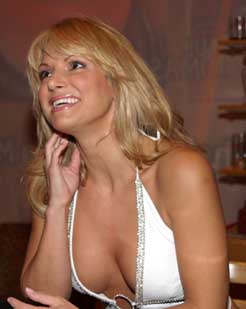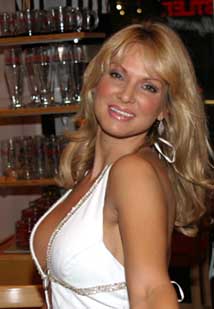 "Me,e and Misses, Misses, Misses Jones, got a thing goin' on." -- a film promotion thing. Savanna Sampson, the actress who plays Ms.Jones in the remake of the 1973 Gerard Damiano film, The Devil In Ms. Jones, made a personal appearance at the Hustler Hollywood Store on Wednesday night, the 26th. Ms. Sampson promoted this hot-selling new movie by signing photographs and posing for her fans and fans of the film, spending a good amount of time to talk and joke with each person.
Having spent a couple years in the adult industry, Savanna Sampson continues to work in more complex and better produced pictures. This new release from Vivid offers dark, wanton, and uninhibited vignettes about a woman giving in to desire. Though I did not get an opportunity to speak with her, through being sensitive and observant this is what I know: Savanna has tree-hugging, granola, artsy aspects to her personality. Muscular and lithe, she can kick her leg above her head. She likes to dance – not necessarily naked. And she has a nice smile.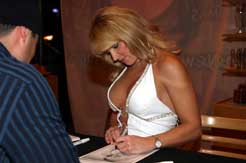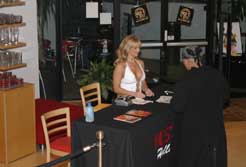 Film buffs still have praise for original "The Devil in Miss Jones", many of them considering it the best adult movie ever produced and one of the few truly artsy adult films. It tells the story of Justine Jones, a 30ish spinster who kills herself because her life is so empty. Confronted by the Devil and faced with an eternity in Hell, she is given the opportunity to live one more day any way she wants, and she chooses it to be consumed, engulfed and impassioned by lust. This new remake film also stars Jenna Jameson and Jessica Jaymes, two other fine actresses.