Executive Chef Sean J. Dent
Biography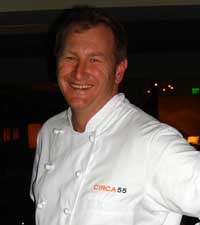 Executive Chef Sean J. Dent
Circa 55 Restaurant & Lounge
The Beverly Hilton Hotel
Australian native Sean J. Dent, 36, is the culinary master behind the new retro-chic, 1955-inspired CIRCA 55 Restaurant & C 55 Lounge at the reinvigorated Beverly Hilton. In his capacity as Executive Chef, Sean offers a symphony of signature dishes infused with a modern twist on California cuisine morning, noon and night.
The newly appointed CIRCA 55 Chef has practiced the gastronomic arts on several continents commencing with training under Swiss Master Chef Rudi Scherer. From there he worked his way across Switzerland, the Caribbean and Fiji before arriving in America. Making his home in Los Angeles in 1999, Chef Sean served as Sous Chef at L'Orangerie Restaurant followed by Executive Sous Chef at Le Merigot Santa Monica Beach Hotel.
A rising star in the celebrity-studded backdrop that is Los Angeles, Chef Sean accepted the invitation to re-establish the landmark restaurant Citrus. In 2001, Chef Sean created new culinary possibilities embracing life as a private chef, as well as catering to the motion picture industry where he presided over Hollywood's elite. It is this strong connection between customer service and his zest for food and wine that caught the eye of CIRCA 55 management.
At CIRCA 55 Restaurant & C 55 Lounge, Chef Sean aspires to "enlighten the guests dining experience creating memories and friendships that last a lifetime." Chef Sean chose to mirror his menu after classic California cuisine with contemporary fusions marrying local fresh ingredients with Stockyard steaks and fresh seafood making it the Californian cuisine of choice in Beverly Hills.
This Sydney Chef's favorites, whether he's cooking for his family or his guests, gravitate toward strong, simple fresh flavors.
Sean lives in the San Fernando Valley with his wife Lucie, a native of Spain and their two young sons, Daniel (seven years old) and Lucas (two years old), whom he lovingly refers to as "food snobs."