HELP THE CHILDREN…AND HAVE SOME FUN!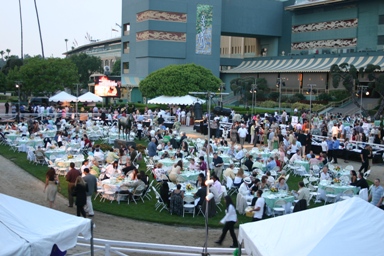 Rosemary Children's Services to hold 44th Annual "An Evening
with Star Chefs" on June 23 at historic Santa Anita Park

Michaela Pereira, co-host of KTLA's Morning Show, to act as MC
Click here to see pictures from this years event.
PASADENA, Calif
. In 2006, Rosemary Children's Services (RCS) assisted over 550 children through its Residential Treatment Program for adolescent girls and Foster Family Program for newborn to 18-year old boys and girls. Yet these programs – offered throughout Los Angeles County, Riverside County, Orange County, and portions of San Bernardino County – come with a price tag … not for the families served but for the agency itself. Invariably it costs money to develop, maintain, and perhaps even expand an array of services that include not only Residential Treatment and Foster Care but a Mental Health program, Adoption program and certified Non-Public School.
On Saturday, June 23, at 6 p.m. at the historic Santa Anita Park in Arcadia, RCS will hold its major fundraising event of the year – the 44th Annual "An Evening with Star Chefs" to raise monies to help defray some of these costs.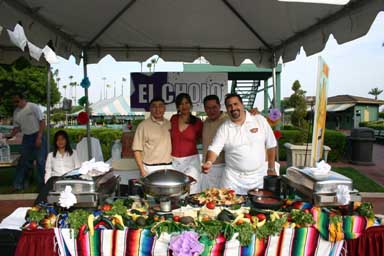 "Frankly, we couldn't do what we do without the invaluable support of the community for Star Chefs," explains Tamika Farr, Development Director for the agency, which has aided abused and neglected children since its founding in 1920 by the Pasadena Shakespeare Club. The organization christened its first group home, Rosemary Cottage, after Shakespeare's quote in Hamlet: "There's rosemary, that's for remembrance. Pray you, love, remember."
"So we hope the community will 'remember' to mark their calendars to join us this year for the best Star Chefs yet," Farr urges with a smile.
Adds Sandra Harris, chair of the Star Chefs committee, "Everyone who attends Star Chefs makes a difference in the lives of at-risk children. At the same time, it's a great opportunity to enjoy fine cuisine in a lovely setting. And, of course, no one should forget our fabulous silent auction!"
An Evening with Star Chefs, the Pasadena area's largest and oldest event of its kind, will showcase the culinary talents, winemaking wizardry, and distilling and brewing expertise of 23 local restaurants and other area businesses. Among these are 561, 4 Copas Tequila, Angelena's, Castle Catering, Celestino, The Dining Room at the Ritz Carlton, El Cholo, FrontRunner, Il Fornaio, Madeleines Restaurant and Wine Bistro, McCormick & Schmick's, The Melting Pot, Mi Piace, Pasadena Baking Company, Quady Winery, The Raymond, Ruth's Chris Steak House, San Gabriel Country Club, Skyscraper Brewing Company, Stockholm Kristall Vodka, Twin Palms, and The Westin, Pasadena. Peet's Coffee & Tea will participate as well.
As Harris mentioned, Star Chefs will also offer guests needing a break between 'courses' – "there's a lot of food; you need to pace yourself," laughs Farr – a chance to bid on over 100 items at the event's silent auction. In addition, RCS supporters can enter an opportunity drawing for two round trip tickets to Maui, Hawaii, complete with a six-night stay at the Ka'anapali Beach Hotel.
Back by popular demand, too, is the "Champagne & Diamonds" booth sponsored by Superior Diamonds and the South Pasadena Rotary. Only 100 glasses of champagne, each priced at $50/flute, will be available throughout the event so guests are encouraged to visit the booth early.
"Champagne is a wonderful, celebratory drink that is perfect for an event like Star Chefs," says Greg Wessels, Executive Director of RCS. "But the real draw is the fact that two of the glasses will have a ½ carat diamond in them. I love watching the faces of the winners."
"Yet, ultimately, the real winners are the children," adds Karen Drew, President of the agency's Board of Directors. "Star Chefs is a great way to help yourself to a lot of great food, dancing and fun and help the youngest, most needy members of our community while you're at it." Michaela Pereira, co-host of KTLA's weekday Morning Show and honorary Master of Ceremonies for An Evening with Star Chefs, agrees with Drew … from firsthand experience.
"I am an adoptee myself," Pereira confides, "and my four sisters have all been through the foster care system. So I am very aware of the importance of caring for our often-forgotten kids."
Pereira, who toured the RCS campus a few months ago, was particularly impressed with the work going on there when she compared it to what was available during her own childhood.
"I grew up in a small rural town," the award-winning newscaster recalls. "There weren't a lot of adopted kids where I was. It was a different time and those kinds of services weren't available. Fortunately I was brought into a loving home early on in life. So many kids aren't as lucky ... it's those kids who are most in need of services like RCS."
For more information or to purchase tickets to An Evening with Star Chefs – which is sponsored by Wells Fargo, Santa Anita Park, and Far East National Bank – call 626.844.3033, ext. 211 or visit the agency's website,
www.rosemarychildren.org
.
Tickets may also be purchased at the door. Santa Anita Park is located at 285 West Huntington Drive in Arcadia.
Since its establishment by the Shakespeare Club in 1920, Rosemary Children's Services has provided compassionate and therapeutic support to help children, adolescents and families heal from their pasts and move towards productive and fulfilling futures. The agency's guiding principles encompass accountability (accepting responsibility for actions), integrity (reflecting a firm commitment to personal and organizational values), collaboration (working and communicating as a team within and across programs and with government and nonprofit agencies), dedication (working with commitment and loyalty toward the agency's mission and goals) compassion (understanding and nurturing without judgment) and excellence (living by the mission, principles and goals of the agency).
Click here to see pictures from this years event.
For map and location click

Here!



For more information please visit their website at

www.rosemarychildren.org