MARK MITTLEMAN
Executive Chef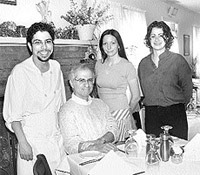 Mark with parents and sister
Chef Mark Mittleman's signature cuisine is inspired by the distinct tastes of Italy and the fresh seasonal flavors of California. As the Executive Chef of
WEST Restaurant & Lounge
, his unique culinary vision has created Los Angeles' premier Cal-Italian destination and one of the city's newest hotspots.
Growing up in New York as part of an immigrant Italian family, his passion for food began at an early age. "My grandmother and mother were my first culinary teachers," said Chef Mittleman, who credits them with cultivating his talents. "I learned patience by simmering sauces for hours and developed a delicate touch by hand-rolling pastas. All of these small tasks later led to my love of cooking."
After traveling throughout the U.S., Europe and Middle East, Chef Mittleman returned home to his native Long Island, New York, where he began cooking at the German restaurant, Hans' Gausthaus, working the sauté and grill station. The restaurant's executive chef saw talent in him and suggested that he attend culinary school.
Upon his completion of culinary school, Chef Mittleman spent a number of years as a private chef until he learned that Hans' Gausthaus, the restaurant that began his culinary career, was closing its doors. Mittleman decided to purchase the restaurant and opened it as Fauna in 2001. Chef Mittleman operated the restaurant for three and a half years, using it as a platform to develop a catering company, conduct cooking demonstrations at local vineyards and plan outdoor events and concerts. Business was booming but Chef Mittleman was ready for more. When a call came for a position at the Beverly Hills Hotel and Bungalows in Los Angeles, he sold the business he had built with his own two hands and made the cross-country move.
Most recently, he worked as the Chef de Cuisine at Republic restaurant + lounge in Los Angeles, hosting high-profile parties for Us Weekly, Queen Latifah, Vanity Fair, "Entertainment Tonight," InStyle, "The Insider" and the after-party for the movie premiere of "The Fountain."
With more than 10 years as a professional chef, he brings a unique culinary perspective and fresh ideas to his position as Executive Chef of
WEST Restaurant & Lounge
. "I am thrilled to be at such a beautiful restaurant with breathtaking views of the city," said Chef Mittleman. "This combined with the eclectic menu and warm service makes West the premier Cal-Italian steakhouse in Los Angeles."