Michael Carreiro
biography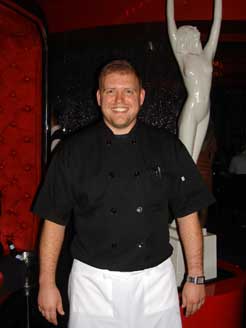 Executive Chef
Chapter8 Lounge
Michael grew up in the hometown of America, Plymouth, Ma. His freshman year of high school he enrolled in culinary arts under a chef by the name of Barry levy who inspired him to be the best. This is when his adventure began. Michael competed in numerous competitions with local schools in baking, pastries, cold and hot foods were he excelled. With a base of old school French he received a scholarship to the world renound Culinary Institute of America, Hyde Park, NY for being the best culinary student in his graduating class.
The culinary institute was ranked # 1 culinary school at the time and had the highest amount of master chef professors. He worked with over 75 top-notch chefs from around the world from Vegas, New York, Chicago, San Francisco, France, and Germany in his stay. He also was an assistant for professors in training to receive their master chef certificates. His internship he returned home to work at the world trade center / seaport hotel Boston where he had a hands on experience with some of the top powerhouses of business in Boston.
Upon graduation he achieved an entry level position in a new England fine dining restaurant which was consulted by the famed chef jasper white and who's executive chef was an apprentice of another celebrity chef by the name of Ken Oringer. Within a year he promoted to chef de cuisine and was running his own restaurant at the situate yacht club were he ran his seasonal menus.
Michael feeling he has mastered the New England style cuisine decided to try the pacific coast to become more rounded. He landed in Los Angeles at a terrible time in the economy of the United States, right after 9/11. He found a position at Vermont restaurant were he worked under a French chef by the name of Stephane Beaucamp who worked in Michelin star hotels in France and who Michael later found out worked at Budda Bar, Spago and Chinios on Main. Michael again moved up in the ranks of the kitchen fast.
When his chef left, he not happy with the quality chefs that were hired he decided to move to one of la s top film studios where he cooked in an executive dining room for director's and celebrates such as Sylvester Stalone, Jennifer Gardner, Matt Damon, and Jerry Brockiemer. After a couple years, and seeing there was no room for growth.
A chef approached him from the Regent Beverly Wilshire/ Four seasons that apprenticed under Chicago's Charlie trotter and other well-known restaurants in Chicago. Michael blew threw the hotel working every aspect of the hotel at a great time. The hotel was being remodeled and worked with fellow culinarians from Wolfgang's steakhouse CUT and the hotels new restaurant The BLVD. Given the opportunity to run his own kitchen again he opened the renovated spa and pool kitchen and ran it without a hitch.
Michael then stumbled on chapter 8 where the opening chef was an executive chef for another celebrity chef Joachim Splichal's of the patina group. Michael trying still to be a top chef felt this was an excellent opportunity to show what he was made of. After the chef eddy shin left Michael worked under a regional Mastro's chef by the name of Mathew Briggs who also worked with top chefs of the montage resort, Laguna Beach and some of Scottsdale, AZ top chefs. Through hard work Michael was promoted to executive chef of chapter 8 where know he is proud to provide the most natural, and humanly treated products, and is proud to keep his community healthy. Famers market vegetables and pesticide fre. He is true to his craft and to his guests.