THE BALBOA BAYCLUB & RESORT
ANNOUNCES 5th ANNUAL FOOD & WINE FESTIVAL
May 23 - 25, 2008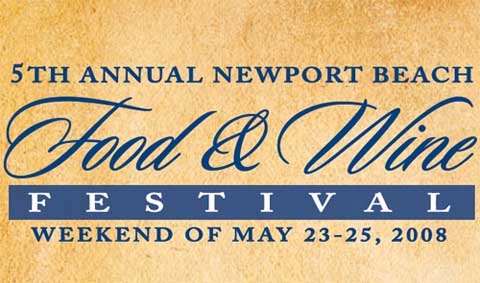 NEWPORT BEACH, CA (March 8, 2008) – The Balboa Bay Club & Resort (BBC&R) will once again host its memorable Fifth Annual international celebration of food and wine. This event will be held over Memorial Day Weekend - Friday evening, May 23rd through Sunday evening, May 25th, 2008 in Newport Beach, CA .
"We are pleased to present this year's line-up of the "best" that the food & wine industry has to offer. Master Sommeilers, chefs from around the globe, elaborate menus, an Italian winemaker, a well-known Chocolatier, artisans and musicians, are all being orchestrated. Of course, the delicate pairings of food and wine and our fine guest services will be the hallmarks of this event. We will be encouraging our guests to try new flavors, and experiment along-side the Masters. It will be another outstanding event," says Dieter Hissin, Director of Food and Beverage.
The resort will become Piazza della Acqua (Plaza of the Water) and will pay homage to Italy (the land of wine) with international delights of food, wine and entertainment. Master Sommeliers will escort guests through the nuances of fine wines, ports, cognacs and sakes from around the world. Each event will feature beautiful displays of fine foods and complementing spirits from these far away lands. All food & wine events are available individually or special packages can also be purchased for the weekend.
"Our waterfront resort is the perfect Mediterranean setting for this extraordinary event with an international flair. Guests will be entertained by numerous day and evening events---with one fabulous affair after another." says Henry Schielein, President & COO. "This Annual Food and Wine Festival seems to launch the summer festivities and boating activities in Newport Beach and the neighboring islands. We will also offer a special Food & Wine and Memorial Day weekend guest room package, for those who would like to stay Friday through Monday and enjoy an entire weekend of seemingly endless dining and waterfront experiences."
"Sine Cerere et Baco friget Venus."
Love grows cold without food and wine.


Friday, May 23rd, 2008
Italian wines will be poured, numerous displays of food and cheeses, and music will serenade
guests---all under the stars overlooking the Balboa Bay .

Saturday, May 24th, 2008
Italian Luncheon 11:30AM

$125*
A family member from Italian winery Antinori will escort guests through delicious Italian food and wine luncheon served in the dining room with views of the Bay.
Afternoon Sake' & Sushi 2:30PM

$80*
Sake Sommelier Luis de Santos, M.S. will lead guests through an education on the new world of
hot and cold Sake pairings. Chef Abe of Bluefin fame (Crystal Cove) will be the sushi Chef.
Syrah's From Around The Globe- Wine Tasting 5:00PM

$80*
Featuring Master Sommeliers Ron Mumford, M.S. and Ira Harmon, M.S.
The Grand Tasting 6:30 to 10:00PM in the Grand Ballroom $145*
By far, this is the highlight event of the weekend festivities. The evening features over sixty wineries and endless palate pleasing adventures. Menu items are not limited to, but will include: thirty imported cheeses, carver featuring rack of lamb, sushi, delicate caviars, beef tartar, and so much more.
Sunday, May 25th, 2008
Caribbean

Brunch with Calypso Steel Drum Band 10:30AM to 1:30PM $95*
Guests will enjoy the indoor/outdoor venue with the unique music and food of the islands.
Afternoon of Sparkling and Still Rose' Wine Tasting

2:30PM

$60*
Featuring Master Sommeliers Ron Mumford, M.S. and Ira Harmon, M.S. sparkling & still wines and roses' will be explored with artful appetizers carefully selected to complement the pourings.
Chocolate and Wine Pairings 4:30PM

$80*
Featuring Norman Love, a well-known Chocolatier, alongside Master Sommeliers Ron Mumford, M.S.
and Ira Harmon, M.S. pouring Ports, Madeiras and other wines that work well with fine chocolates.
Cigars and Cognacs 5:30PM

$60*
Join us on the terrace overlooking the Bay, as cognacs are poured and cigars are hand-rolled by an artisan. This will be the weekend finale to a wonderful exploration of fine wines and dining experiences.
(*Prices are per person, per event and inclusive of tax and gratuity. BBC Members receive a 10% discount.)
Please Call (949) 630- 4146 To Book Reservations For These Events.
Event Package $490 per person
This package includes: Friday Night Italy on the Bay, Saturday Luncheon, Saturday Night Grand Tasting in the Ballroom, Sunday Brunch and one other event of choice.
Weekend Rooms Package
A perfect way to enjoy the festival is to stay all weekend long in the luxury of this waterfront resort.
Each event will be just steps away! Package includes: Deluxe accommodations, breakfast each morning for two (The First Cabin Restaurant or Room Service) and Valet Parking. Luxurious Guestrooms: from $265 per night or Waterfront Guestrooms: from $535 per night. (Packages are based on occupancy for two guests. Taxes, gratuities and seminar/event entry fees are not included.) For room reservations call 949.645.5000.
About The Resort
This Mediterranean-style, waterfront resort was newly rebuilt five years ago, and enjoys stunning bay views and sunsets over the Pacific Ocean . In January, the resort was recognized as one of the Top 500 Hotels in the World by Travel + Leisure Magazine, and is the only Newport Beach hotel on this exclusive list. The resort has an award-winning fine dining restaurant and bayside terrace, The First Cabin, as well as nightly entertainment and dancing at Duke's Place. The First Cabin Restaurant received the Award of Excellence from the Distinguished Restaurants of North America (DiRoNA) as well as the Wine Spectator Award of Excellence. Other resort amenities include: a full-service 17,000 –square foot Spa, a salon which is open to the public, jewelry and fashion boutique, year-round heated swimming and whirlpool, and workout facility. Conveniently located in the heart of Newport Beach off California 's Pacific Coast Highway , The Balboa Bay Club & Resort is a sophisticated yet relaxed, waterfront four-diamond luxury resort that delights locals, vacationers as well as meeting and corporate business travelers. For more information, visit www.balboabayclub.com.

For map and location click

Here!