THE LANGHAM
Huntington Hotel & Spa
Pasadena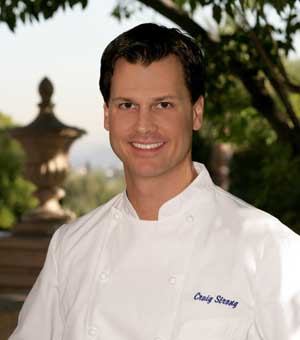 Craig Strong, Chef de Cuisine
The Dining Room


Chef Craig Strong began his culinary career in his teens, working at various restaurants; so when he decided to attend L'Academie de Cuisine, it was a natural transition.
At L'Academie de Cuisine, he studied under some of the most respected chefs in Washington, DC, including Chefs Françoise and Pascal Dinot. Following graduation, Chef Strong began a 12-year culinary career with The Ritz-Carlton Company at The Ritz-Carlton, Philadelphia. Having been with the hotel for a little more than a year, an opportunity arose to move to Atlanta and work with the renowned Chef Guenter Seeger in the Five Star, Five Diamond Dining Room at The Ritz-Carlton, Buckhead.
Upon Chef Seeger's departure, Chef Strong was fortunate to be able to gain valuable experience under the new Dining Room Chef Joel Antunes, whose classically trained French background added yet another international dimension to his style.
"Having worked with Chef Seeger and Chef Antunes, I really wanted to expand my cuisine by working in Europe. So when the position arose to become the sous chef in The Newport Room at the Hotel Arts in Barcelona managed by Ritz-Carlton, I jumped at the chance," he recalls.
Working in Spain gave Chef Strong another facet to his cooking that fits very well with modern food trends with an emphasis on olive oil, fresh seafood, and the Mediterranean climate, similar to Southern California. The Spanish cuisine has rustic and bold flavors, which he incorporates in his cuisine with the refinement of French techniques.
Today at The Langham, Huntington Hotel & Spa's Dining Room, Chef Strong describes his cooking style as "Modern American," a style that is based on classical training, which is prepared using contemporary styles and a mix of international products. "Because the United States is such a melting pot of cultures, Americans are open to ingredients from around the world." Chef Strong loves the way food and wine play together and this is often showcased in monthly wine dinners, with guest winemakers from renowned wineries from around the world.
The Dining Room is open for dinner Tuesday through Thursday from 6:30 to 9:30 p.m.; Friday and Saturday from 6 to 10 p.m. Entertainment is provided nightly and there is also a private dining room, which seats 14 guests. For additional information or to make a reservation, guests may call The Langham, Huntington Hotel & Spa directly at (626) 568-3900.