26th ANNIVERSARY AMERICAN WINE & FOOD FESTIVAL SERVES
UP WORLD-CLASS CELEBRATION FOR A GOOD CAUSE
Wolfgang Puck, Barbara Lazaroff and friends unite for a weekend of
food, fine wine and festivities benefiting Meals On Wheels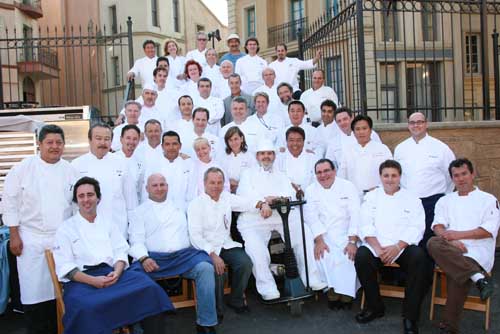 LOS ANGELES, CA, July 31, 2008
–
It's the epicurean event of the year. The one place that puts world-class chefs at your service for a weekend of delectable dishes, superb libations, fantasy auction items and amazing entertainment. The 26th Anniversary American Wine & Food Festival (AWFF) returns to Los Angeles for a star-studded gathering benefiting the Los Angeles Chapters of Meals On Wheels.
Kicking off Friday, September 26, the weekend of festivities features three spectacular events, an estimated 40 celebrated chefs, and fine wine and spirit purveyors. For the second year,
AWFF
will start the weekend with the sizzling
Red Hot @ Red Seven
party at the Pacific Design Center. Saturday, internationally renowned chefs serve palate-pleasing plates at the signature
AWFF
event on the Universal Studios' back lot. The
Chefs Grand Tasting Dinner
wraps up the weekend with an exclusive dinner event at Spago Beverly Hills Sunday evening.
Tickets for all three events go on sale July 1. Last year's events sold out, so be sure to mark your calendar! Please visit www.AWFF.org for tickets, sponsorship opportunities and Festival details.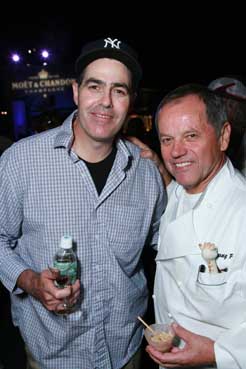 Red Hot @ Red Seven
Date: Friday, September 26, from 7 to 11 p.m.
Location: Red Seven by Wolfgang Puck
A new event added to the line-up last year,
Red Hot @ Red Seven
kicks off the AWFF festivities. Set at Wolfgang Puck's chic West Hollywood restaurant Red Seven, this searing hot celebration features a night of spectacular beef, smooth wine & spirits and musical entertainment. With the ambiance of the Pacific Design Center's famous fountains blazing red, this truly is a night to remember.
Taste delicious morsels of mouth-watering beef served by Red Seven, CUT and Sidebar Beverly Hills, CUT Las Vegas, Lawry's The Prime Rib, La Brea Bakery and more.
Red Hot @ Red Seven
tickets are available through the Puck-Lazaroff Charitable Foundation for $150 per person. For more information and to purchase tickets, visit
www.AWFF.org.

American Wine & Food Festival
Date: Saturday, September 27, from 6 to 11 p.m.
Location: Universal Studios' Back Lot
For its 26th year, this signature food & wine event brings together culinary elite for a great cause. Held on the back lot of Universal Studios, the festival is open to the public and features live bands, a silent auction, a few surprises and an unrivaled epicurean feast.
The quick to sell-out event draws a crowd of 2,500-plus individuals elated at the opportunity to sample an array of treats prepared by top chefs. The Puck-Lazaroff Charitable Foundation has put together an esteemed line-up of celebrity chefs for this year's AWFF including Nobu Matsuhisa of Matsuhisa & Ubon, Julian Serrano of Picasso, Alex Stratta of Alex, Roy Yamaguchi of Roy's, Lee Hefter of Spago Beverly Hills, Stephen Pyles of Stephen Pyles, Mark Peel of Campanille, Jasper White of Summer Shack, Sam Choy of Sam Choy's and many more.
The always-popular silent auction brings fantasy to reality. Hundreds of luxurious items will be auctioned away. Don't miss your opportunity to take home these fabulous items…many of which are not available anywhere else!
AWFF
tickets are available through the Puck-Lazaroff Charitable Foundation for $300 per person. Table reservations are available from $3,500. For sponsorship opportunities and to purchase tickets visit www.AWFF.org.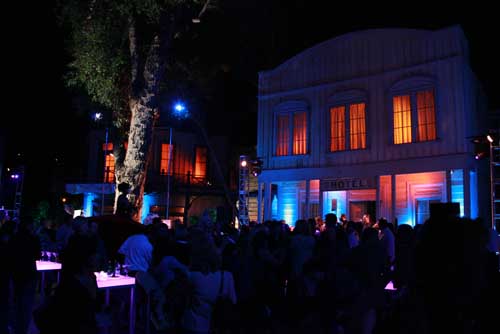 Chefs Grand Tasting Dinner
Date: Sunday, September 28, at 6 p.m.
Location: Spago Beverly Hills
Wolfgang Puck, Lee Hefter & Barbara Lazaroff with Chef de Cuisine Thomas Boyce & Executive Pastry Chef Sherry Yard welcome some of the finest chefs from around the world to prepare an elegant six-course meal at the
9th Annual Chefs Grand Tasting Dinner
. Celebrity chefs Nobu Matsuhisa of Matsuhisa & Ubon, Joël Robuchon of L'Atelier, Eric Ripert of Le Bernadin, José Andrés of The Bazaar, Daniel Humm of Eleven Madison Park and Sam Mason of Tailor pair up, each preparing one course, for the grand gala dinner. The evening is filled with exquisite dishes paired with beautiful wines and a live auction full of one-of-a-kind items and experiences.
Chefs Grand Tasting Dinner
tickets are available for $750 per person or $7,000 per table. Please contact Tracey Spillane, General Manager Spago, at (310) 385-0880 for reservations. Seating is limited.
About the American Wine & Food Festival

Since its inception in 1982, the Puck-Lazaroff Charitable Foundation has supported the American Wine & Food Festival, raising more than $14 million for the Los Angeles Chapters of Meals On Wheels. This organization serves thousands of meals each day to Los Angeles' homebound senior and disabled citizens.
As a result of their efforts on behalf of Meals On Wheels, the Austrian-born Puck, renowned for feeding Hollywood glamour at the annual post-Oscar extravaganza, and leading restaurant designer Lazaroff, are also celebrated for their philanthropic spirit.
Participating Chefs (To Date):

Alex Stratta, Gino Angelini, Robert Del Grande, Mark Peel, Luis Diaz and Rene Mata, Ari Rosenson, Matt Hurley, Dean Fearing, Frank Ostini, Paul Prudhomme, Lydia Shire and Mario Capone, Cal Stamenov, Nobu Matsuhisa, Michael Mina, Michelle Bernstein, Nancy Silverton and Matt Molina, Joachim Splichal, Francois Payard, Julian Serrano, Jimmy Schmidt, Matt Bencivenga, Richard Reddington, Roy Yamaguchi, Sam Choy, Kerry Heffernan, Sherry Yard, Lee Hefter and Thomas Boyce.
Participating Vintners (to Date):

Ancien Wines, Archery Summit Winery, Argiano-Bisol-Damilano, Au Bon Climat, Baker Lane Vineyards, Beckman Vineyards, Beringer Vineyards, Bernardus Winery, Bonaccorsi Wine Company, Bonny Doon Vineyard, Carica, Chalone Vineyard, Caymus Vineyards, Chandon Sparkling Rosé, Charles Krug Winery, Cielo Malibu Estate Wineyards, Cobblestone Vineyards, Dr. Loosen, Enzo Wines Napa Valley, Etude Wines, Ferrari-Carano Vineyards & Winery, Foxen Vineyards, Francis Coppola Winery, Frank Family Vineyards, Hanzell Vineyards, Hendry Wines, Havens Wine Cellar, Iron Horse Vineyards, J. Jacaman Estate Wines, J Vineyards & Winery, Jaffe Estate Wines, Jordan Vineyard & Winery, Justin Winery, Kalin Cellars, Kendall-Jackson Winery, Laetitia Vineyard & Winery, Lancaster Estate, Landmark Vineyards, LIOCO Wine Co., Malibu Family Wine, Malibu Vineyards, Melville Vineyards & Winery, Miner Family Vineyards, Morgan Winery, Paradigm Winery, Peju Province Winery, Pine Ridge Winery, Premium Ports and Madeira, Pride Mountain Vineyard, Qupè Wine Cellars, Ramey Wine Cellars, Raymond Vineyard & Cellar, Rosenthal-The Malibu Estate/Surfrider, Semler & Saddlerock Wines, Silver Oak Cellars, Ste. Michelle Wine Estates, Strange Wines, Summerland Winery, Topanga Vineyards, Truchard Vineyards, Twomey Cellars, Vin Divino Ltd., Whitcraft Winery and W.J. Deutsch.
Participating Spirits (to Date):

Belvedere Vodka, Damrak Gin, Domaine de Canton Liqueur, Le Blon Cachaça, PAMA Liqueur and Patrón Tequila.
Event Sponsors (To Date):

Audi, MasterCard, American Airlines, Belvedere Vodka, EvansHardy+Young, Fiji Water, Mansour Travel, Pure Blue Meats, Southern California Gas, Wolfgang Puck Catering, Southern Wine & Spirits, Patrón Tequila, Idaho Potato Commission, Academia Barilla, Acteva Online Ticketing, Barilla, Cigar Aficionado, Classic Party Rentals, Clear Channel Outdoors, Domaine de Canton, Integrated Transportation Services, Jacob Maarse, KJAZZ 88.1, La Brea Bakery, Leblon, Los Angeles Magazine, Miele, PAMA, Renaissance Hotels & Resorts, Republic Master Chef, Saltistry, Sherry Council of America, Spiegelau Glass, Tea Forté, Tsar Nicoulai Caviar, Universal Studios, US Foodservice and Wolfgang Puck Coffee.
For more information or to purchase tickets please visit their website at
www.AWFF.org