LA's Hottest Chefs Heat up the Fight Against Cancer at the
American Cancer Society's California Spirit Gourmet Garden Party

Event Honored Top Realtor Joyce Rey and Activist Nancy Daly-Riordan,
Welcomed LA Mayor Antonio Villaraigosa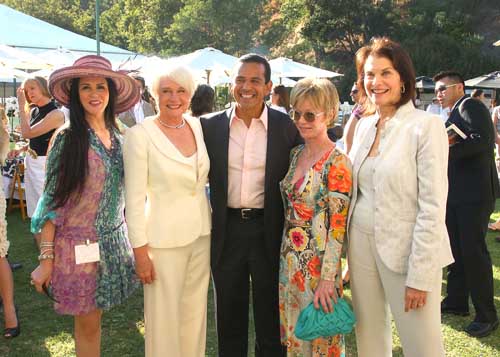 Barbara Lazaroff , Joyce Rey, Mayor Villaraigosa, Nancy Riordan, Sherry Lansing


LOS ANGELES – August 11, 2008 –
California Spirit XXIV, the American Cancer Society's gourmet garden party, honored top Realtor Joyce Rey, an early event volunteer and supporter as well as Nancy Daly-Riordan. The event on Sunday, August 10 at the Ken Roberts Ranch in Brentwood and chaired by American Cancer Society volunteers Terry Kramer and Jennifer Sparks. California Spirit has raised more than $12.5 million in its 24-year history for the Society's lifesaving research, education, prevention and free patient services programs. This year's event netted $550,000.
Los Angeles Mayor Antonio Villaraigosa presented proclamations to the two women recognizing their efforts in the fight against cancer. In addition to their efforts to eradicate the disease both women are cancer survivors. Master Chef Wolfgang Puck, Sherry Lansing, and Barbara Lazaroff hosted the event on the rolling lawns of the equestrian estate. More than 600 guests strolled the verdant grounds as a light afternoon breeze filtered the sounds of live jazz and the scent of mesquite charcoal throughout the canyon. Inside Edition's Jim Moret emceed the event and Christie's Amdrea Fiuczynski presided over the live auction.
"The dollars raised at California Spirit are saving lives," said David Veneziano, American Cancer Society California Division CEO. "We deeply appreciate the leadership and dedication of the honorees and our volunteers on behalf of the more than 130,000 Californians who will hear the words 'you have cancer,' this year. Through California Spirit and other events, the American Cancer Society can continue to help support those patients, their families and friends."
The gala featured al fresco gourmet dining from Los Angeles' premier restaurants, wines from renowned California vineyards, live music and spectacular live and silent auctions. Restaurants included Angelina Osteria, Beacon, Chinois on Main, Cut, Fraiche, Jiraffe, Melisse, Montage Beverly Hills, Red7, Spago Beverly Hills, Sushi Roku and Valentino. Wines were poured by Ampelos Cellars, August Briggs, El Molino Winery, Ferrari Carano, Foxen Wine, Jaffe Wines, Lioco, Neal Family Vineyards, Peju, Qupe, Revana Family Vineyards, Vino V Wines and Winemonger Imports.
Joyce Eisenberg-Keefer and Mel Keefer were Diamond Sponsors. Platinum sponsors included American Dawn, Annie and Howard Becker, Joni Berry/The Eichenbaum Foundation, CB Richard Ellis, Coldwell Banker, the Sherry Lansing Foundation, Richard and Daphna Ziman.
The American Cancer Society is dedicated to eliminating cancer as a major health problem by saving lives, diminishing suffering and preventing cancer through research, education, advocacy and service. Founded in 1913 and with national headquarters in Atlanta, the Society has local offices in 3,400 communities involving millions of volunteers across the United States.
For more information anytime,
call toll-free 1-800-ACS-2345 or visit
www.cancer.org.