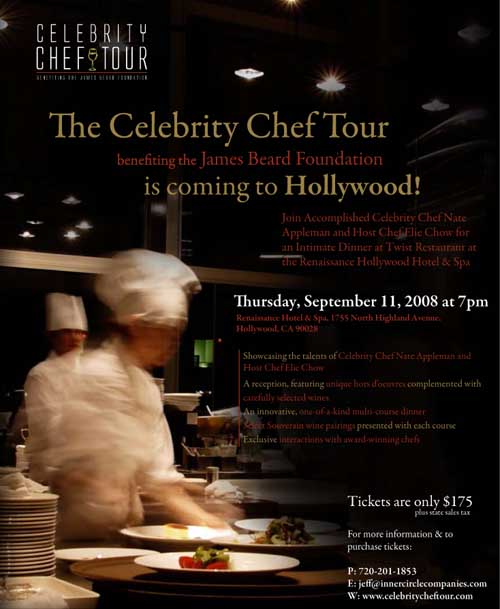 Celebrity Chef Tour benefiting the James Beard Foundation
to team up once again with Renaissance Hollywood & Spa and
showcase Award-Winning Chef Nate Appleman

Hollywood, CA – The Celebrity Chef Tour benefiting the James Beard Foundation is making its way through Los Angeles, stopping for a second time at Twist Restaurant at the Renaissance Hollywood Hotel & Spa. This time, award-winning Celebrity Chef Nate Appleman will join host Chef Elie Chow and share his deep appreciation of Italian cuisine with a special focus on seasonal ingredients and simple, time-honored preparations in the spirit of James Beard on September 11th, 2008 for an exquisite dinner at Twist.
Since 2004, the Celebrity Chef Tour has been recreating the "Once-in-a-Lifetime" experience of dining at the historic James Beard House, for which the nation's top chefs come to prepare menus at the Foundation's invitation, by featuring the greatest culinary artists in major markets across the United States. While harnessing the excitement and huge popular culture interest in all things food, the Celebrity Chef Tour benefits the James Beard Foundation, whose mission is to "celebrate, preserve and nurture America's culinary heritage and diversity in order to elevate the appreciation of our culinary excellence."
As such, the dinner will feature a tasting of the best of Chefs Appleman and Chow's dishes prepared with their contagious creative energy and enthusiasm in the kitchen, with beautifully paired wines in this festive setting. The evening with the Celebrity Chef Tour will begin at 7:00 pm with a reception of passed hors d'oeuvres and wine, giving everyone a taste of things to come. After the guests are seated they will be served the first of five to seven incredible courses, each of which are paired with a wine from Souverain. After three hours of fantastic food and wine, the night concludes with the chefs making their way to the dining room, usually to a standing ovation, to greet and answer the guests' questions in an intimate and exclusive setting.
American Express, Yahoo!, Souverain, Certified Angus Beef, Renaissance Hotels and Hudson Valley Foie Gras are proud sponsors of the Celebrity Chef Tour benefiting the James Beard Foundation.
Tickets are available to the public for $175 (plus state sales tax). For more information and to purchase tickets, please visit our website at
www.celebritycheftour.com
.


For map and location click

Here!