WHOSE CAT WANTS TO BE A MILLIONAIRE?

Meow Mix® Think Like a Cat Game Show™
To Air on GSN on Saturday, November 15

Cats and Their Humans To Compete as a Team, Feline Charities Benefit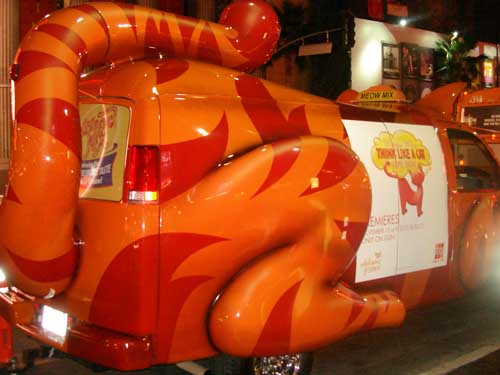 SAN FRANCISCO — November 12, 2008 – Whose cat wants to be a millionaire? The Meow Mix® cat food brand today announces that one lucky feline, along with his or her pet parent, will have the opportunity for a million-dollar payday on "The Meow Mix® Think Like a Cat Game Show™"—the world's first game show to test how well people can think like their cat. The thirty-minute program, in which cats and their humans will compete as a team, will premiere on Game Show Network (GSN) on Saturday, November 15, 2008, at 9:30PM ET /8:30 CT and will be hosted by game show legend Chuck Woolery. The program will re-air Sunday, November 16, at 1:00 AM ET, Friday, November 21, at 9:00 PM ET, Saturday, November 22, at 1:00 AM ET, and Sunday, November 23, at 4:30 PM ET.
"Meow Mix has always understood what makes cats happy, and our goal with 'The Meow Mix Game Show' is to pass this knowledge along to Meow Mix's pet parents," said Brian Ely, Director Marketing, Del Monte Foods. "We did this last year when we opened The Meow Mix Acatemy—the world's first school to teach people how to think like a cat—and now we're giving pet parents and their cats the chance to show off how well they understand each other, and in the process win a lot of money for themselves and for charity. Both the Acatemy and 'The Meow Mix Game Show' are key ways that Del Monte Pet Foods is enhancing the emotional connection between pet and pet parents with innovative products and marketing."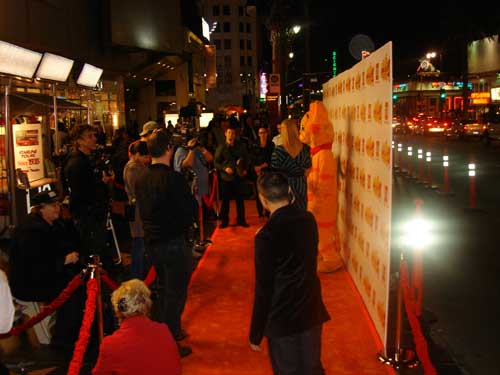 "The Meow Mix Game Show" will put a cat-centric twist on classic game shows like "The Newlywed Game" and "Jeopardy". Parents will be quizzed on general feline knowledge—covering categories such as nutrition, behavior, anatomy and the role of cats in pop culture—as well as interactive challenges where cats and pet parents must work together to be successful. Teams will compete in challenges like "The Fast and the Furriest" and "Are You as Smart as a Cat" to determine who emerges as Pick of the Litter.
"GSN is excited about integrating our customers' advertising message and brand attributes into programming," said John Zaccario, GSN Senior Vice President of Advertising Sales. "'The Meow Mix Game Show' partnership leverages GSN's television and digital platforms to achieve maximum impact with our audience. We are thrilled to be working with Del Monte and their Meow Mix brand. They demonstrate a talent to think creatively and embrace new ways to engage audiences."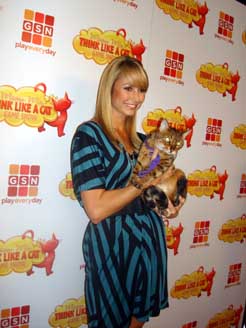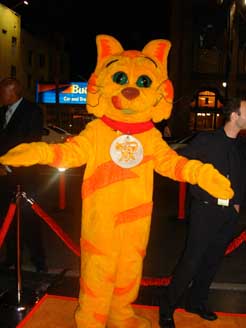 "In my game show career I've worked with TV stars, film stars, sports figures, legendary musicians and many other contestants," said host Chuck Woolery. "Now I'm thrilled to be working with my furry friends, cats. It's a first for me and I'm delighted to be partnering with Meow Mix and GSN."
Upon completion of the regulation rounds, the team with the most points will have the opportunity to take part in a television first—the chance for a cat parent and his or her cat to win one million dollars—as well as $100,000 for a feline-related charity in their community. Even if the team doesn't hit the million-dollar jackpot, the winning team will still take home $25,000—plus $2,500 will be donated to their local feline charity. The second-place team will win $15,000 (in addition to a $1,500 donation to their local feline charity) and the third-place team will receive $10,000 (as well as a $1,000 donation to their local feline charity). In addition, all finalists will win a year's supply of new Meow Mix® Wholesome Goodness™ cat food.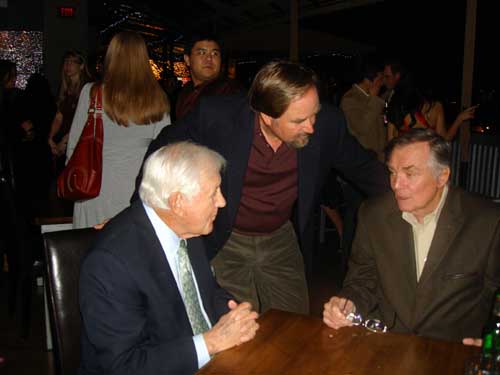 Meet the Cat-Testants

Meow Mix scoured the country looking for the purrr-fect cat-testants to appear on the show. Auditions were held in eight cities between July 14 and August 3, 2008, and more than 1,200 feline-human teams turned out to strut their stuff.
The eight teams who clawed their way to the top and will compete on the show include:
Judi Basolo, 58, and Guido, 2-year-old Tabby San Francisco, CA
Alma Coronado, 29, and Abbey, 3-year-old Tabby Dallas, TX
Hartford Hough, 43, and Mr. Guffington, 4-year-old Himalayan Los Angeles, CA
Mirka Luoto, 33, and Phoebe, 8-year-old Persian Denver, CO
Simone Mickelberry, 30, and Spooky D. Cat, 10-year-old Snowshoe Portland, OR
Stephanie Park, 41, and Wolfie, 11-year-old Persian/Siamese mix New York, NY
Ian Stich, 29, and Quinn, 6-year-old Maine Coon Tampa, FL
Saunjae Taylor, 31, and Charlie, 3-year-old American Domestic Shorthair Chicago, IL
American Humane Association Certified Animal Safety Representatives were present at the auditions, as well as the game show taping, to monitor the well-being of all of the cats participating in the show. In addition, Steve Dale, a member of the American Humane Association Board, as well as host of a popular pet radio show and author of a nationally syndicated column on pets, served as a consultant to the program.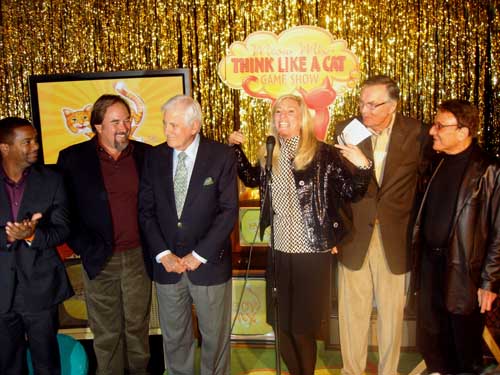 "The Meow Mix Game Show" was created by Grand Central Marketing (GCM), the company that previously developed "The Meow Mix House™," a 2006 reality show starring 10 shelter cats, and the Meow Mix Café®, a restaurant for cats and their humans. The Executive Producers are GCM and David Doyle, the former vice president of program development and production for Animal Planet, where he was instrumental in the development of such shows as "The Puppy Bowl" and "The World's Ugliest Dog Competition". As lead agency for Meow Mix®, TracyLocke developed the "Think Like a Cat" concept to serve as the first extended platform for the Meow Mix® brand and serves as the strategic integrator for all facets of the program.
Pet parents can visit www.MeowMix.com for more information about the show, to view audition outtakes, play interactive games, and enter a sweepstakes for a chance to win a state-of-the-art home theater system.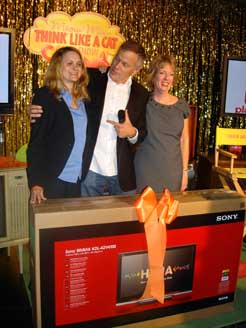 About Meow Mix® Brand

Meow Mix® brand "Tastes So Good Cats Ask For It By Name!®" Meow Mix® is the leading brand in cat food with a mission of keeping cats happy. The brand is proud to offer a wide range of products to suit whatever tastes your cat loves. Whether your cat eats dry food, wet food or a combination of both, Meow Mix® cat food has the variety and taste that cats crave. Meow Mix® brand offers a range of dry and wet cat food, premium pouch and Meow Mix® cat treats.
About Del Monte Pet Products
At Del Monte, our pet products nourish and enrich the lives of pets and pet parents by providing great-tasting, high-quality and innovative products for dogs and cats and by encouraging them to enjoy an active lifestyle together. With trusted brands including Meow Mix®, Kibbles 'n Bits®, 9Lives®, Snausages®,
Pup-Peroni®, Milk-Bone®, Meaty Bone® and Pounce®, our products enrich the connection between people and the pets they love. As a premier provider of taste-oriented pet food and pet snacks, our products play a key role in the lives of millions of pet families everyday.
About Del Monte Foods
Del Monte Foods is one of the country's largest and most well known producers, distributors and marketers of premium quality, branded food and pet products for the U.S. retail market, generating more than $3.2 billion in net sales in fiscal 2008. With a powerful portfolio of brands including Del Monte®, S&W®, Contadina®, College Inn®, Meow Mix®, Kibbles 'n Bits®, 9Lives®, Milk-Bone®, Pup-Peroni®, Meaty Bone®, Snausages® and Pounce®, Del Monte products are found in nine out of ten U.S. households. The Company also produces, distributes and markets private label food and pet products. For more information on Del Monte Foods Company (NYSE:DLM) visit the Company's website at www.delmonte.com.
Del Monte. Nourishing Families. Enriching Lives. Every Day.™
About GSN
GSN, the Game Show Network, is the premier destination for game content. From exciting, original watch-and-win endeavors to classic franchises and dynamic online games, including free casual and skill-based games, cash tournaments and cash games at GSN.com (and WorldWinner.com), GSN is where people come to play, anywhere, anytime. GSN is jointly owned by Sony Pictures Entertainment and Liberty Media Corporation and is distributed to more than 66 million cable television subscribers throughout the U.S. and Canada by all major cable operators, satellite providers and telcos. For further information, visit GSN's press website at http://corp.GSN.com.