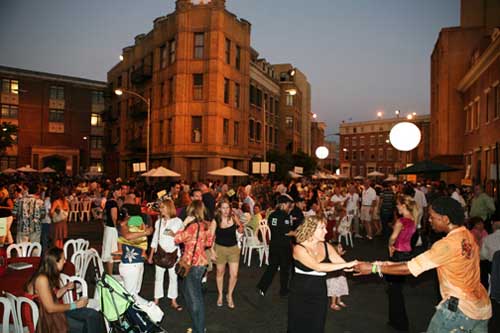 CONCERN is an appropriate acronym (CONquer CanCER Now) for one of Los Angeles's best-known and most beloved charities, slated to celebrate the 35th anniversary of its groundbreaking Block Party on July 11, 2009.
Since its inception in 1968, CONCERN Foundation, which is dedicated to raising and granting funds to support cancer research worldwide, has broken local ground in many ways: pioneering support of cancer research (specifically funding emerging scientists); using the force of a committed group of individuals, now four generations deep, to raise funds; encouraging restaurants and caterers to come together by donating and sharing center stage with the event donors and variety of annual themes to raise money; pioneering the "block party" fundraiser concept, which began on glamorous Rodeo Drive in Beverly Hills and today has found a new long-term home on the back lot of Paramount Studios in Hollywood.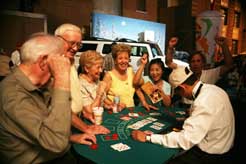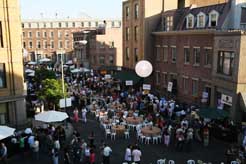 The theme for the Saturday, July 11, 2009 event is A GROWING CONCERN…Planting Promise In Cancer Research, set within the "New York" back lot of Paramount Studios in Hollywood. The anticipated sold-out evening, hosting over 3,500 guests, will honor three extraordinary women from our community, Susan Inwood Senior Vice President of Wealth Management for Citi Smith Barney, child psychiatrist Mary M. Moebius M.D. and renowned interior designer Donna Livingston. Each of these women has made a long standing commitment to further the quest to conquer cancer and embody the true spirit that is Concern Foundation by helping the organization continue planting promise in cancer research. All three women along with their husbands and families are fully committed to help Concern reach its goal to raise over $2 MILLION DOLLARS from this year's event, bringing us that much closer to the Concern vision of living in a world without cancer.
Partnering with Concern again this year will be Los Angeles magazine, helping the organization to raise awareness for their mission as well as helping to secure additional funds from their readers and advertisers for cancer research and to celebrate their August 2009 Best of LA® issue at the event.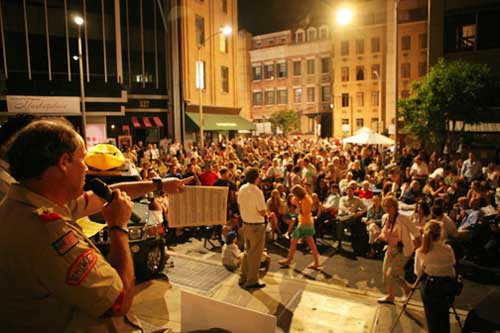 This year's Block Party will feature a special performance by BILLY VERA and the BEATERS, along with its traditional casino style gaming, an opportunity drawing and over 150 great silent auction packages and a live auction featuring trips and vacation packages with air fare provided by American Airlines, and several one-of-a-kind items and opportunities plus Concern's annual live auction of a pure-bred Labrador puppy. In keeping with the theme there will be several areas of Interactive guest participation activities and décor surrounded by the cosmopolitan setting of the Paramount Studios back lot. Again this year the event will feature a Best of LA Marketplace showcasing some of the "best of LA" winners chosen by the editorial staff of Los Angeles magazine. We anticipate that this special area of the party will feature some of the great elements from the 2008 event including spa treatments and a photo souvenir with guests faces on the cover of Los Angeles magazine all built around a cool outdoor lounge setting on the studio's now famous Chicago Street façade.
It would not be a Concern Block Party without the over 50 restaurants and caterers that provide "a taste" of their specialties.   Some who have already committed to participate include; The Grill on Hollywood, La Cachette, restaurant BROOKS in Ventura, JOSS, Lawry's the Prime Rib, Bar Hama & the California Sushi Academy, Bistro Garden, Chaya Brasserie & M Chya Cafe, Fogo de Chao, Factor's Famous Deli/Delicacies Fine Catering, Pink's Famous Hot Dogs, IL Cielo, GYU-KAKU, Joss Cuisine, El Cholo, Il Moro Restaurant, La Provence Patisserie, Jian Korean BBQ, Ocean & Vine, Vibrato Gill, & Maria's Italian Kitchen, with more commitments coming in each and everyday. Ten fully stocked hosted bars, Reed's Ginger Brew Products, Dos Lunas tequila tasting, and vodka martini bar provided by Stockholm Krystal and plenty of coffee drinks from Pasquini Espresso Company & Intelligentsia Coffee & Tea.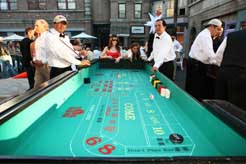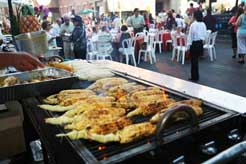 Conceived out of friendship, the organization was about meaningful issues from the very beginning. Fifteen Los Angeles couples joined together to give purpose to the life of their friend, Beverly Wolman, not yet 40, who was battling a diagnosis of terminal cancer. They wanted to make sure their dollars counted in the fight against cancer. The group immediately made the decision to fund cancer research—specifically, a new emerging area in cancer research, cancer immunology directed by Dr. David Weiss at the Lautenberg Center for Tumor Immunology in Jerusalem. Thanks in part to the support of CONCERN, this research was accepted for evaluation in 1970 by the National Institutes of Health and today has become a benchmark for some of today's breakthroughs for early diagnosis, treatment cures for this insidious disease.
To date, CONCERN Foundation has raised over $41 million for cancer research and has awarded funds to over 500 promising cancer researchers throughout the United States and around the world. The non-profit, primarily volunteer organization currently funds 47 cancer research projects at leading institutions in the United States and abroad, The organization keeps administrative overhead to a minimum, so that over $.96 cents of every dollar raised is used to provide salary funding to further the careers of gifted young cancer researchers whose work shows great promise but whose careers are not yet sufficiently advanced to justify major funding from government sources.
For more information on CONCERN, visit their website at
www.concernfoundation.org or call 323-852-9844.
For map and location click Here!