The Saban Free Clinic's 12th Annual Extravaganza for the Senses
Food and Wine Event to Raise Funds for High-Quality,
Free Medical Care for the Uninsured and Working Poor

Make Plans to Attend the Extravaganza on
July 18th, at 20th Century Fox Studios in Los Angeles
Los Angeles, May 8, 2009
– As the health care crisis continues to escalate, Los Angeles area young professionals are doing their part by organizing the 12th Annual Extravaganza for the Senses to raise vital funds for The Saban Free Clinic (formerly The Los Angeles Free Clinic). On Saturday, July 18, 2009 at 20th Century Fox Studios, the Extravaganza will attract 2,000 guests who will sample food and wine, participate in a silent auction and enjoy music by DJ Scott Silva as they mingle beneath the stars. One of the Clinic's largest fundraisers, last year's sell-out event raised more than $200,000 to help provide free health care and social services to those in need.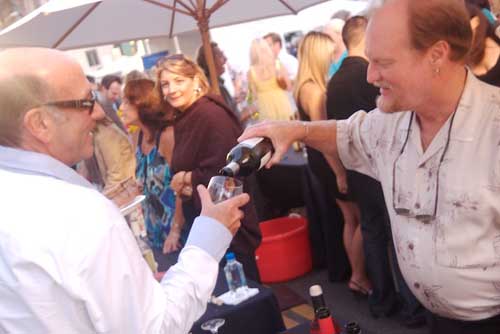 More than 100 wineries and 40 Los Angeles-area restaurants donate fine wine and food for the event, which is presented by The
Wine House
and the
New Friends
of The Saban Free Clinic
, a group of young professionals who volunteer to help raise funds for the Clinic. One hundred percent of the proceeds go directly to the Clinic.
"We continue to see a steady increase of patients coming to the Clinic for their medical and dental needs because they are uninsured and simply can't afford the high cost associated with these necessities," states Abbe Land, Co-Chief Executive Officer of The Saban Free Clinic. "We count on events such as the Extravaganza for the Senses to provide vital funding so that we can continue meeting this growing need – especially during these tough economic times."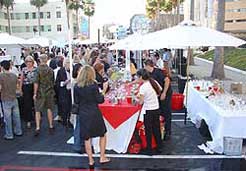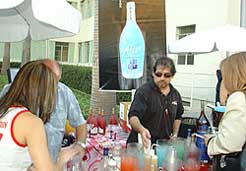 A
few of the participating Los Angeles area restaurants include:

20th Century Fox Studios
Greenleaf Gourmet Chopshop
Quality Food and Beverage
Bombay Café
Ivan Kane's Café Wa s
Rosti Tuscan Kitchen
Bon Melange Catering
Lawry's Catering
Rush Street
Buddha's Belly
Locanda Del Lago
Takami Sushi & Robata and
Elevate Lounge
Café La Boheme
Louise's Trattoria
The Chocolate Traveler
Chaya Venice
Milk
The Restaurant at the Getty
Chez Jay
Minestraio
The Sky Room
Corn Maiden
Mr. Cecil's California Ribs
Upstairs 2
Dr. Bob's Handcrafted
Ice Creams
Ococoa
Farm Fresh To You
Pace
General admission tickets are $80 (beginning July 1st, they go up to $100) and VIP tickets are $200 (beginning July 1st, they go up to $225), which includes free valet parking, early entry in the event and admission into the exclusive VIP lounge. The admission cost includes unlimited samples of food and wine, complimentary massages, mystic readings and henna tattoos. Tickets can be purchased now at
www.thesabanfreeclinic.org/extravaganza
or by calling (323) 330-1670.
Restaurants or wineries interested in participating in this year's Extravaganza should call 323-330-1670 to learn more. Silent auction donations are also welcome and are being coordinated via Lenna Vanerian at
lvanerian@thesabanfreeclinic.org
or 323-330-1653.
Founded in 1967, The Saban Free Clinic is the oldest continuously operating free clinic in the nation offering free medical and dental care, and other social services to the uninsured and working poor of Los Angeles. Through its high standard of care and partnerships with Cedars Sinai Medical Center, Kaiser Permanente, Children's Hospital, and the UCLA School of Dentistry, the Clinic provides over 85,000 patient visits each year. For more information about the programs and services the Clinic provides, please visit
www.thesabanfreeclinic.org
or call (323) 330-1670.
For map and location click

Here!



For more information please visit their website at

www.thesabanfreeclinic.org/extravaganza