HOT AUGUST TOPIC

40th Anniversary of Tate-LaBianca Murders

"Five to Die: the Book that Helped
Convict Charles Manson"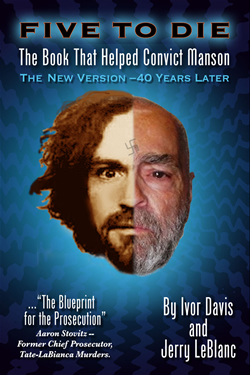 A SENSATIONAL BOOK THAT CHRONICLES
THE REST OF THE MANSON FAMILY STORY
THAT COULDN'T BE TOLD 40 YEARS AGO.


Ivor Davis, who knew everything about the Charlie Manson family months before the police and the prosecution did, now updates his powerful, frightening book Five to Die, first published in early 1970. On the 40th anniversary of the crimes that shook
the world, Davis reveals for the first time what he learned since its publication and
how he learned it. Anyone who was alive and remembers Manson, or younger
readers ready to be gripped by his story won't want to miss this important and shrewdly-written book.

Dick Adler/The Chicago Tribune

August 14, 2009: "Lynette "Squeaky" Fromme was released about 8 a.m. today," prison spokeswoman Maria Douglas told ABCNews.com. She had finished her term at the Federal Medical Center Carswell in Fort Worth, Texas. Fromme took aim at Ford with a semi-automatic .45-caliber pistol Sept. 5, 1975. There were four bullets in the gun's magazine, but none in the chamber and an alert Secret Service agent grabbed the gun from Fromme. At the time of the assassination attempt, Manson and several of his followers were serving life terms for killing nine people in his grisly Helter Skelter plot to start a race war.
Fromme told her defense attorney that she targeted Ford because she wanted to garner attention for a new trial for Manson.
For more more Information about this book
please visit their website at: www.mansonfivetodie.com