8TH ANNUAL TASTE OF SANTA MONICA
BIGGER, BETTER, TASTIER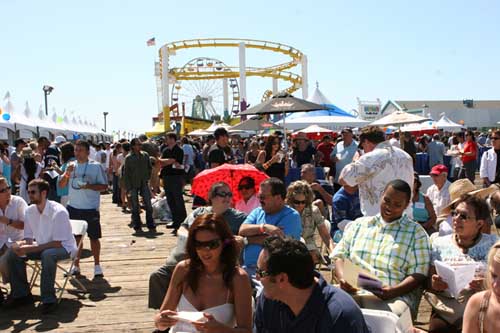 SANTA MONICA, CA
(August 12, 2009) – Santa Monica Chamber of Commerce in partnership with "KOOZA" Cirque du Soleil is taking
TASTE OF SANTA MONICA
to new heights for its 8th annual food festival at Santa Monica Pier on
Sunday, September 13th from 1:00 – 5:00pm
.
This year's TASTE OF SANTA MONICA will offer an extended live music performance and Sunset Happy Hour from 5:00 – 7:00pm. Your entrance fee includes live music, giveaways, chance to win "KOOZA" tickets, preferred prices to see "KOOZA" (
www.cirquedusoleil.com/tasteSM
), International pizza tent, and to meet and mingle with the "KOOZA" street team. For kids there's an interactive kids corner, cook with the Chefs, and discounts to Pacific Park.
TASTE will also feature the inspirational work of Upward Bound House, WISE & Healthy Aging, Westside Food Bank, and OPCC. The Santa Monica Chamber's "PeBL Gives Back" campaign is proud to partner with such inspirational community organizations. Enjoy the many flavors around town all in one spot and don't forget to sample the many different varieties of wine and beer at the wine booths and beer garden.
This Year's Participants
Acadie Crepes, Angelato Café, Barney's Beanery, Beachcomber Café, Bombay Café, Bon Melange Catering, Border Grill & Ciudad Catering, Bubba Gump Shrimp Co., Buddha's Belly, Caffe Bellagio, Cezanne Restaurant – Le Merigot Hotel & Spa, Chart House, Chez Jay, Duke's Malibu, Edible Arrangements, El Cholo Restaurant, Enterprise Fish Co., Farm Fresh To You, FIG Restaurant – Fairmont Miramar Hotel, Gardens of Santa Monica, Hooters, I Cugini Restaurant, Il Fornaio, La Grande Orange, La Vecchia Cucina, Leaf Organics, Library Alehouse, The Lobster, Locanda Del Lago, Loews Santa Monica Beach Hotel, LU Cookie/Biscuits, Mahatma Rice, Mariasol Restaurant, Maui Wowi Hawaiian, Monsoon Café, Nawab of India, Ocean Avenue Seafood, The Organic Panificio, Panera Bread, Real Food Daily, Ruby's Shake Shack, Rusty's Surf Ranch, Shangri-La Hotel, Sheraton Delfina Santa Monica, Swingers Diner, Vienna Pastry, Whole Foods, Wokcano, Xooro, The Yard.
Ticket Information
Entrance fee is $10, children 2-10 are $5, free for children under 2 years old. Upon entrance PURCHASE YOUR TASTE BUCKS in $1 increments to use for sampling items at all the booths. OR better yet - beat the lines and reserve your VIP pass for only $65 per person which gets you early VIP entrance to event at 12:30pm, unlimited food & drinks (wine booths and bottled water included).
For more information and to purchase tickets, visit www.tasteofsantamonica.com or call 310-393-9825 ext. 10.
Supporting Our Event
Sponsors are an important part in making this event happen each year. This year we give thanks to Buick Lacrosse, Albertson, Bud Light, Red Bull, Y Water, O.N.E. Drinks, The Art Institute of California – Los Angeles, Santa Monica Convention and Visitors Bureau, Santa Monica Pier Restoration Corporation, The Lobster, Bossa Nova, Loews Santa Monica Beach Hotel, US Bank, LU Cookies/Bisquits, Botham Plumbing & Heating, Whole Foods Santa Monica, Gardens of Santa Monica, Georgian Hotel, Le Merigot Beach Hotel & Spa, Fairmont Miramar Hotel – Fig Restaurant, ISU Bob Gabriel Co. Insurance, JSM Management Inc. Media sponsors include Los Angeles Business TV, Neptune Local, Santa Monica Daily Press and Santa Monica Mirror.
About The Santa Monica Chamber of Commerce
The Santa Monica Chamber of Commerce (smchamber.com) advocates and represents businesses' interests and issues affecting the community. We provide an environment to help our members prosper and succeed through a proactive working partnership with all levels of government and community organizations to achieve a healthy local economy and quality of life. The Chamber seeks to constantly develop new services for its members. These services include the Santa Monica Magazine Business Directory and Buyers Guide, membership maps, free consulting sessions, resource lists, etc. The Chamber has more than 15 committees and action groups that both inform the community to effect legislative action as well as develop programs to enhance member benefits.
For more information please visit their website
at www.cirquedusoleil.com/tasteSM