On October 8th, 2009 at the CentralPark Boathouse and joined by legendary soprano, Martina Arroyo there was a great luncheon at the Central Park
for Martha Graham Center of Contemporary Dance.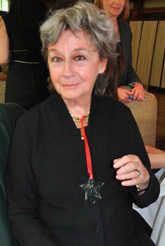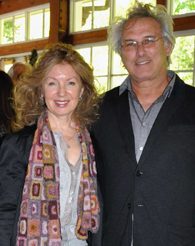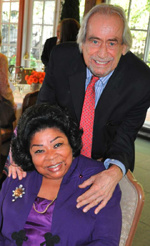 Zoe Caldwell April Gornik Martina Arroyo
Eric Fischl Michel Maurel
Martha Graham is recognized as a primal artistic force of the 20th Century alongside Picasso, Stravinsky, James Joyce, and Frank Lloyd Wright. In 1998 TIME Magazine named Martha Graham as the "Dancer of the Century," and People Magazine named her among the female "Icons of the Century." As a choreographer, she was as prolific as she was complex. She created 181 ballets and a dance technique that has been compared to ballet in its scope and magnitude. Many of the great modern and ballet choreographers have studied the Martha Graham Technique or have been members
of her company.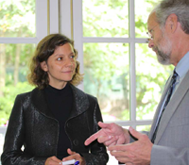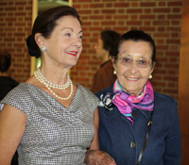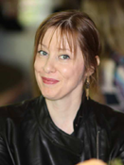 Anita Durst Inger Witter and Irina Pabst Suzanne Vega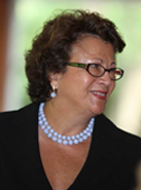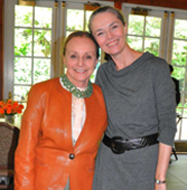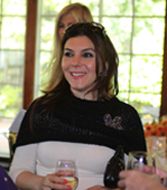 Maria Del Toro Martha Graham Elena Stephanopoulos
Janet Eilber
Martha Graham's extraordinary artistic legacy has often been compared to Stanislavsky's Art Theatre in Moscow and the Grand Kabuki Theatre of Japan, for its diversity and breadth. Her legacy is perpetuated in performance by the members of the Martha Graham Dance Company and the Martha Graham Ensemble, and by the students of the Martha Graham School of Contemporary Dance.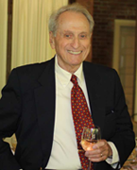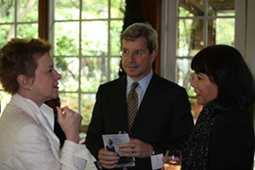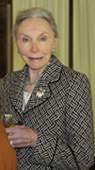 Howard Schlosser Martha Graham Natan Bibliowicz Jean Baruch
Carolyn Iu
In 1926, Martha Graham founded her dance company and school, living and working out of a tiny Carnegie Hall studio in midtown Manhattan. In developing her technique, Martha Graham experimented endlessly with basic human movement, beginning with the most elemental movements of contraction and release. Using these principles as the foundation for her technique, she built a vocabulary of movement that would "increase the emotional activity of the dancer's body." Martha Graham's dancing and choreography exposed the depths of human emotion through movements that were sharp, angular, jagged, and direct. The dance world was forever altered by Martha Graham's vision, which has been and continues to be a source of inspiration for generations of dance and theatre artists.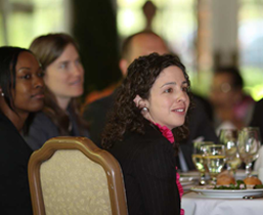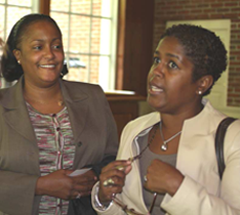 Amy Pasacreta Cheree L. Gulley / Helen Diane Foster
Martha Graham's ballets were inspired by a wide variety of sources, including modern painting, the American frontier, religious ceremonies of Native Americans, and Greek mythology. Many of her most important roles portray great women of history and mythology: Clytemnestra, Jocasta, Medea, Phaedra, Joan of Arc, and Emily Dickinson.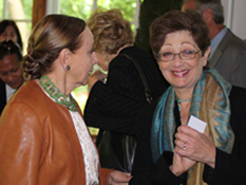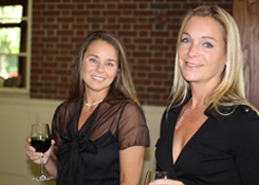 Martha Graham with Joyce Purniick Neila Radtke with Beth Thill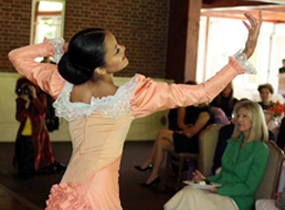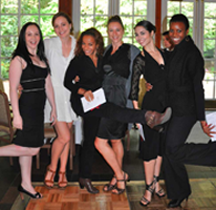 Stephanie van Dooren Martha Graham's talented students!
As an artist, Martha Graham conceived each new work in its entirety — dance, costumes, and music. During her 70 years of creating dances, Martha Graham collaborated with such artists as sculptor Isamu Noguchi; actor and director John Houseman; fashion designers Halston, Donna Karan and Calvin Klein; and renowned composers including Aaron Copland, Louis Horst (her mentor), Samuel Barber, William Schuman, Carlos Surinach, Norman Dello Joio, and Gian Carlo Menotti. Her company was the training ground for many future modern choreographers, including Merce Cunningham, Paul Taylor, and Twyla Tharp. She created roles for classical ballet stars such as Margot Fonteyn, Rudolf Nureyev, and Mikhail Baryshnikov, welcoming them as guests into her company. In charge of movement and dance at The Neighborhood Playhouse, she taught actors including Bette Davis, Kirk Douglas, Madonna, Liza Minnelli, Gregory Peck, Tony Randall, Anne Jackson, and Joanne Woodward how to use the body as an expressive instrument.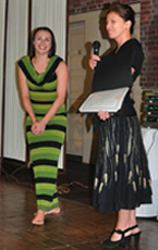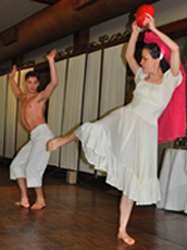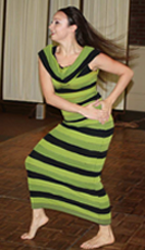 Amélie Bénard Oliver Tobin and Jessica Delia Amélie Bénard
Martha Graham
Her uniquely American vision and creative genius earned her numerous honors and awards such as the Laurel Leaf of the American Composers Alliance in 1959 for her service to music. Her colleagues in theater, the members of the International Alliance of Theatrical Stage Employees Local One, voted her the recipient of the 1986 Local One Centennial Award for Dance, not to be awarded for another 100 years. In 1976, President Gerald R. Ford bestowed upon Martha Graham the United States' highest civilian honor, the Medal of Freedom, and declared her a "national treasure," making her the first dancer and choreographer to receive this honor. Another Presidential honor was awarded Martha Graham in 1985 when President Ronald Reagan designated her among the first recipients of the United States National Medal of Arts.
Click
here
to view the PDF version of this Article.