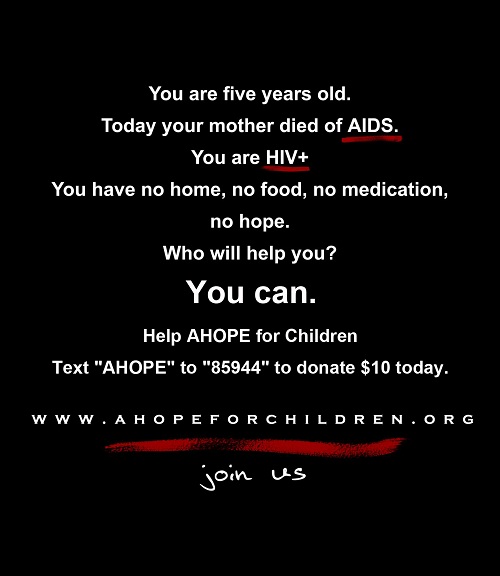 March 25, 2010- AHOPE for Children announces its first annual Text2Give campaign to benefit the over 20 million children orphaned by AIDS. The mobile giving campaign takes effect today and culminates on World AIDS Orphans Day, May 7, 2010.
The world's most vulnerable and neglected child is an HIV positive orphan.
World AIDS Orphans Day is an international movement to highlight the urgency of the current AIDS orphans crisis and to call for immediate action to mitigate the dangerous plight of these extremely vulnerable children. AHOPE for Children's Text2Give campaign has answered that call by spearheading a major donation drive that utilizes the effectiveness and ease of mobile giving.
"We ask for your support in our Text2Give drive. With just a few taps of your finger, you can make a huge difference in the quality of life for these at-risk children", said Tom Starko, Executive Director of AHOPE for Children.
You only need a mobile phone with a major carrier to instantly become a donor and provide relief to the AIDS orphans. To give, text "AHOPE" in the message box to "85944". You will receive a message asking you to confirm. Please reply "YES" or your donation cannot be processed. Your carrier will add $10 to your next phone bill.
"To date, 2.2 million of the 20 million AIDS orphans are themselves HIV positive. Each year, 300,000 children die of the disease. Another crushing statistic: 500,000 children were infected with AIDS this year alone – that's about 300 children since you got up this morning", said Starko.
Besides the destruction of their family and support networks, children orphaned by AIDS face increasing obstacles to survival: little or no access to crucial healthcare or schooling; vulnerability to hunger, starvation, and poverty; subjection to negative stigmatization and discrimination within the community; and amplified susceptibility to exploitative forces such as child labor, prostitution, and child soldiering.
AHOPE for Children is a non-profit dedicated to serving children in Ethiopia, with a primary focus on orphans infected with HIV. AHOPE for Children provides these children with a safe and loving home environment, literacy and basic education, life-saving medications, and the necessary tools to live a healthy and fully realized life. Because of AHOPE for Children, these children have a chance at a fulfilled life and, more importantly, they believe their lives are valuable and they can contribute something significant to our world.
With your help, we can raise $100,000 by May 7th and change these children's lives. It can be done. So far, the lives of hundreds of children have been saved. On May 7th, we will begin our work on 2,000,000 more.
For additional information on the AIDS orphans crisis, the Text2Give campaign, and ways to get involved, please visit AHOPE for Children at:
www.ahopeforchildren.org