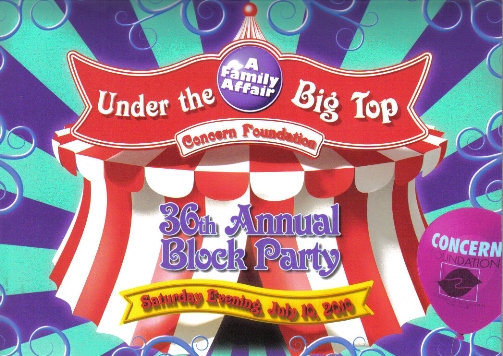 Since its inception in 1968,
CONCERN Foundation
, which is dedicated to raising
and granting funds to support cancer research worldwide, has broken local ground
in many ways: pioneering support of cancer research (specifically funding emerging scientists); using the force of a committed group of individuals, now four generations deep, to raise funds; encouraging restaurants and caterers to come together by donating and sharing center stage with the event donors and variety of annual themes to raise money; pioneering the "block party" fundraiser concept, which began on glamorous Rodeo Drive in Beverly Hills and today has found a new long-term home on the 'New York" set of the back lot of Paramount Studios in Hollywood. The
event is attended each year by well over 3,500 "concerned" donors.
An honoree is chosen each year that embodies the true spirit that is Concern Foundation by helping the organization continue to raise funds and awareness. Honorees are fully committed to help Concern reach its goal to raise over $2 MILLION DOLLARS from the Block Party event, that will enable Concern to continue to fund the next generation of cancer researchers and help bring us that
much closer to the vision of living in a world without cancer.
Various companies partner each year with Concern to help raise funds and
awareness to help further the mission including Concern's media partner
Los
Angeles magazine
, who help the organization to raise awareness for their mission
as well as helping to secure additional funds from their readers and advertisers.
The Block Party features four stages of live musical entertainment along with its traditional casino style gaming, an opportunity drawing and over 150 great silent auction packages and a live auction featuring trips and vacation packages with air
fare provided by American Airlines, and several one-of-a-kind items and opportunities. In keeping with the theme there will be several areas of Interactive
guest participation activities and décor surrounded by the cosmopolitan setting
of the Paramount Studios back lot.
It would not be a Concern Block Party without the over 50 of LA's most beloved restaurants and caterers that provide "a taste" of their specialties. Some who have
had a long standing commitment to participate include; The Grill on the Alley, La Cachette Bistro, Lawry's the Prime Rib, San Gennaro Café, Cookies for a Koz, Reagan's Recipe, Bistro Garden, Chaya Brasserie & M Chya Cafe, Fogo de Chao, Factor's Famous Deli/Delicacies Fine Catering, Pink's Famous Hot Dogs, IL Cielo, Dominick's and Little Dom's, La Provence Patisserie, Mr. Cecil's Ribs, Larsen's Steakhouse, Samba Brazilian Steakhouse, Someone's In the Kitchen, Savore Cuisine and Events, Casablanca,Dandy Don's Ice Cream, NOLA ICE, Se La Vi Sweets,
Bar Hayama, California Sushi Academy, Acadie Crepes, Herb Alpert's Vibrato Gill Jazz, & Maria's Italian Kitchen, and many a host of new participants that lend their support for the cause. Ten fully stocked hosted bars, COKE Products, Ventura Limoncello Co., Reed's Ginger Brew Products, Stockholm Krystal Vodka martini
bar and plenty of coffee drinks from Pasquini Espresso Company and Weaver's Coffee & Teas as just some of the hightlighs of this on-of-a-kind Los Angeles tradition.
For map and location click

Here!



For more information please visit their website at

www.concernfoundation.org