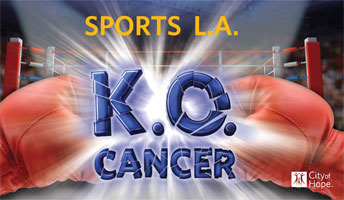 On Wednesday night, April 6th, City of Hope will be the recipient of the proceeds from a spectacular sporting event at the Beverly Hilton Hotel. It will be an extravaganza of boxing, honoring the legendary Jake La Mota (Raging Bull), Micky Ward (The Fighter) & Jackie Kallen (Against the Ropes).
There will be two California sanctioned heavy weight bouts, and a celebrity main event featuring Mario Lopez (Extra) vs. Jimmy Lange (The Contender). Master of ceremonies attorney Robert Shapiro will do the honors.
For the past 31 years Stanley Black and Bob Barth have staged a sport spectacular evening. This year, Playboy Bunnies will be hostessing cocktails, poker will be played at the dinner tables, and gifts galore will be raffled throughout the evening, including a new Mercedes Benz, cruises, big screen TV, and many, many more prizes. Everyone attending will exit with an expensive door prize. Don't miss this evening, it is one of a kind.The tariff is $1,000 per person, ($807 tax deductible).
For information, and an invitation, contact
Mildred Marin at City of Hope (213) 202-5735
For map and location click

Here!



For more information please visit their website at

www.cityofhope.org