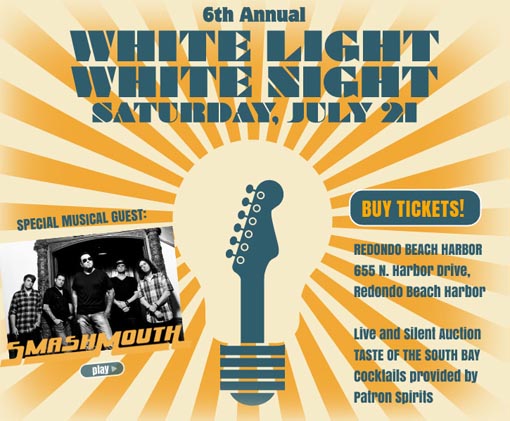 6th ANNUAL WHITE LIGHT WHITE NIGHT FUNDRAISING GALA
TO RAISE THOUSANDS FOR ANGELENOS AFFECTED BY
FAMILY MEMBERS WITH CANCER
South Bay Non-Profit Walk With Sally Hosts a Summer Fundraising Event
to Remember: Eats by South Bay's Best, Drinks by Patrón and
Entertainment by Popular Rock Band Smash Mouth
Los Angeles, Ca.
(June 11, 2012) – As the sun sets on the South Bay this summer, more than 1,000 Angelenos and friends will come together once again for an entertaining, yet meaningful evening to raise money for local non-profit
Walk With Sally
as part of the organization's sixth annual White Light White Night gala.
On Saturday, July 21, King Harbor in Redondo Beach will transform into a sea of white, as supporters from across the country will sample bites from some of the South Bay's best restaurants, enjoy a cocktail from Patron's famous Ice Bar, and bid on the evening's premium silent auction, whose proceeds go directly to Walk With Sally's programs. In addition, guests will be treated to a live performance by musical guest
Smash Mouth
.
"Each year, White Light White Night serves as an opportunity to share the stories of the hundreds of children in Los Angeles who get lost in the mix when a loved one is diagnosed with cancer," says Nick Arquette, founder of Walk With Sally. "This event gives those children a voice and allows us to fund existing and new friendships with mentors. Without the support of our community, we would not be able to impact those children's lives the way we've been doing during the last five years."
Last year's White Light White Night
event raised more than $150,000 for Walk with Sally's mentorship program for children whose parents or siblings are fighting or have died from cancer. This event, sponsored by Momma Mia Worldwide, hopes to be an equally smashing success. There are nearly 3 million children in families affected by cancer in the United States and more than 500,000 minor children, nationwide, living with a parent in the early phases of cancer treatment.*
"This year, Walk with Sally's goal is to raise $250,000 in order to serve the more than 200 children in Los Angeles that could benefit from Walk With Sally's mentorship program. By next year, we hope to increase mentor relationships by 30% and open a new Walk With Sally center," says Arquette.
Featured restaurants will include Manhattan Beach's Strand House, Hermosa Beach's Hot's Kitchen and Santa Monica's Brick & Mortar, among many others. Tickets for White Light White Night go on sale Monday, May 20th. For more information about White Light White Night, please visit the Walk With Sally website at
www.walkwithsally.org
.
WHAT:
Walk With Sally invites the community and friends to attend the 6th annual
White Light White Night
fundraiser, concert, auction and cocktail party in their favorite all-white attire. This party has been recognized as the South Bay's premier "summer chic" event, complete with a celebrity packed red carpet, a variety of L.A.'s best eateries, exclusive performances and silent and live auctions featuring one-of-a-kind products and experiences.
WHEN:
Saturday, July 21, 2012 at 5:00 p.m.
WHERE:
Having outgrown the rooftop at South Bay BMW in attendance,
White Light White Night
will be held at an exciting
NEW
location featuring stunning Redondo Beach Harbor views. Address: 655 N. Harbor Drive; Redondo Beach, CA 90277
HOW:
Dust off your favorite all-white ensemble and purchase General Admission
tickets on sale now at
www.walkwithsally.org
for $150.
The night will also offer:
Cuisine from various popular South Bay restaurants and bars including
12 + Highland, Mucho, Ortega 120 and Bluewater Grill

A stirring video presentation depicting the stories of Walk With Sally's children

A VIP silent and live auction, offering one-of-a-kind products and experiences including Luxury Boxes and Season Tickets, Celebrity Donated Items and Chef Experiences

"Stand Up For A Kid" opportunities to support mentor relationships for an entire year

Proceeds from White Light White Night to benefit Walk With Sally, a South Bay nonprofit organization that provides free-of-charge mentoring support programs and services for children across Los Angeles who are living with or have lost a parent or sibling to cancer.

About Walk With Sally

Walk With Sally is dedicated to providing mentoring support programs and services to children of parents or siblings with cancer – one child at a time, one heart at a time. Walk With Sally is committed to providing healing and comfort to children debilitated by the emotional experience of living with or losing a parent or sibling to cancer. This healing is facilitated through free of charge mentoring support programs and services that provide an emotionally safe environment for children to share their difficult experience with someone who has suffered the same. A Los Angeles-based, registered 501(c)3 non-profit organization, Walk With Sally can be found on the web at http://www.WalkWithSally.org.



For map and location click

Here!



To purchase tickets please click here.

www.walkwithsally.org