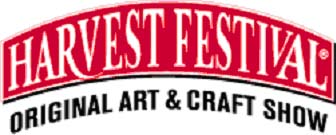 HARVEST FESTIVAL® ORIGINAL ART & CRAFT SHOW

CELEBRATES 40th ANNIVERSARY
WITH WEEKEND SPECTACULAR IN ANAHEIM
*Featuring Master Chef Culinary Presentation*
Click here to win free tickets!
ANAHEIM, CA – Indulge in the ultimate shopping entertainment experience at the Harvest Festival® Original Art & Craft Show October 12-14, 2012 at the Anaheim Convention Center with more than 24,000 handcrafted originals, live music, demonstrations, a Kidzone, strolling performers, contests, specialty foods, and more. Patrons who bring non-perishable food items to donate to the Second Harvest Food Bank of Orange County will receive $2 off of the admission price.
Celebrating 40 years as the west coast's largest and finest indoor craft show, the fall tradition brings together more than 200 exhibitors from across the nation for a shopping extravaganza like no other. The festive atmosphere makes exploring the array of exhibits an exciting discovery of ceramics, paintings, jewelry, blown glass, hand woven clothing, photography, candles, woodwork, garden designs, homemade sauces and soups, antique treasures, children's accessories, sculptures, holiday ornaments, and more. At affordable prices, each creation features the personal touch to make for a memorable gift or keepsake. Patrons appreciate the opportunity to interact with the artists, get items personalized, or even learn some helpful tips through crafting demonstrations.
"Each item in our juried showcase is a 'made in America' original created by artists who embrace the opportunity to share their passion," says Nancy Glenn, Harvest Festival Show Manager. "There's something special for everyone and we pride ourselves in creating a unique 'shoppertunity' that begins the moment you walk through the door."
This year's 40th Anniversary Celebration will include a special culinary demonstration from The Bikini Chef, Susan Irby, as seen on TV and heard on KABC Radio. This sought after author has written eight cookbooks and has designed the Bikini Lifestyles "Wine, Dine, and Workout," giving people the tools they need to live a healthy lifestyle. Chef Irby will serve up fitness tips along with scrumptious tastings during her presentations Saturday and Sunday at 1:00pm.
Connecting with the community, Knots of Love will greet guests at the bag and parcel check and Discovery Science Center will host the interactive, Halloween-inspired Kidszone while Kids Are 1st will offer free child fingerprinting and photo ID kits.
What:
Anaheim Harvest Festival® Original Art & Craft Show
When:
October 12-14, 2012
Where:
Anaheim Convention Center, 800 West Katella Avenue, Anaheim,
CA 92802
Hours:
Friday and Saturday: 10:00am to 6:00pm | Sunday: 10:00am to 5:00pm
Tickets:
Adults: $9, Seniors (62+) $7, Youths (13-17) $4, Kids 12 and under free
Affiliates:
Discovery Science Center, Knots of Love, Kids Are 1st, Second Harvest Food Bank of Orange County, and Master Chef Susan Irby
Info:
Info and tickets are available at www.harvestfestival.com or call 800-346-1212
For map and location click

Here!



For more information or to purchase tickets please click here.

harvestfestival.com