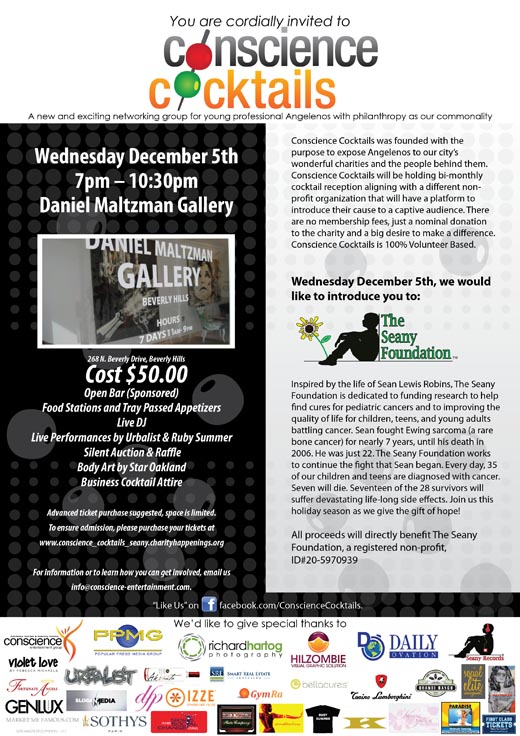 WHAT:
Conscience Cocktails, a networking group for young professional Angelenos with philanthropy as a commonality, will be hosting a holiday charity mixer on Wednesday, December 5th to benefit The Seany Foundation. Join us from 7pm – 10:30pm at the Daniel Maltzman Gallery located in luxurious Beverly Hills for evening of socializing and philanthropy as we bring together like-minded people, great food and cocktails while raising money and awareness for The Seany Foundation.
The mission of Conscience Cocktails is to expose Angelenos to our city's wonderful charities and the people behind them by aligning with a different non-profit organization at each event and giving them have a platform to introduce their cause to a captive audience. All proceeds directly benefit our evening's charity partner, The Seany Foundation.
Inspired by the life of Sean Lewis Robins, The Seany Foundation is a 501(c)(3) non-profit organization dedicated to funding research to help find cures for pediatric cancers and to improving the quality of life for children, teens, and young adults battling cancer. Sean fought Ewing sarcoma (a rare bone cancer) for nearly 7 years, until his death in 2006. He was just 22. The Seany Foundation works to continue the fight that Sean began. For more info, please visit
www.theseanyfoundation.org
Every day, 35 of our children and teens are diagnosed with cancer. Seven will die. Seventeen of the 28 survivors will suffer devastating life-long side effects. Join us this holiday season as we give the gift of hope!
This special evening will include:
Open Bar
Hollywood Pasta Company Appetizers from 7pm – 8pm
Live performances by cancer survivor Urbalist and up and coming sensation Ruby Summer
Live DJ
Raffle
Body Art by Star Oakland
Business Cocktail Attire requested
Tickets are limited and on sale now at
http://conscience_cocktails_seany.charityhappenings.org
WHEN:
Wednesday, December 5th 2012
7:00pm – 10:30pm
WHERE:
Daniel Maltzman Gallery
268 N. Beverly Drive
Beverly Hills, CA
Please visit us at

www.facebook.com/ConscienceCocktails



For map and location click

Here!