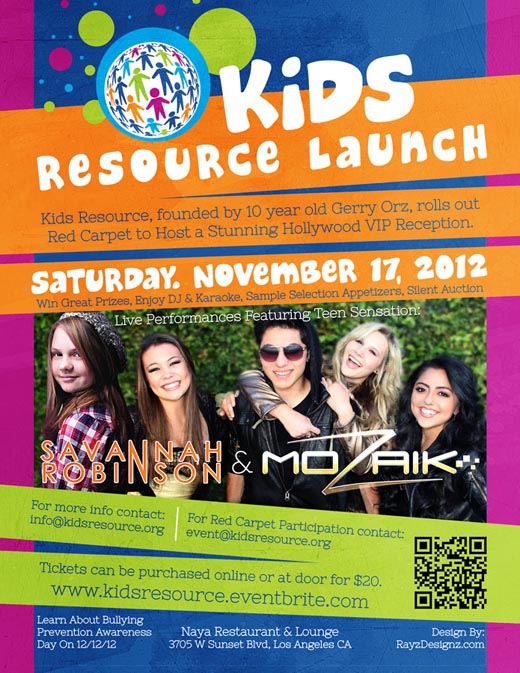 Young Artists Come Together to Celebrate
the Launch of New Anti-Bullying Charity and
California Bullying Prevention Day
10-year-old Gerry Orz is launching his Kids Resource charity organization with a young celebrity- and civic leader-filled event at Naya Sunset in Los Angeles on November 17th.
Hollywood, CA October 25, 2012. Aspiring young actor and filmmaker Gerry Orz is hosting the 1st Annual "Bullying Prevention Day" Red Carpet VIP Reception at the Naya Sunset in Silver Lake on November 17th, from 5 p.m. to 10 p.m. The 10-year-old from San Gabriel is bringing together entertainers, celebrities, business leaders and elected officials to celebrate the launch of his anti-bullying non-profit organization, named Kids Resource, and the passage of a bill which establishes 12/12/12 as Bullying Prevention Day in California.
The event will feature a celebrity red carpet, silent auction, a screening of Orz's anti-bullying video and special live performances by recording artists Savannah Robinson, LJ Ugarte, MoZaik and VanJess. Also making an appearance is Angela Madsen, who will be bringing the medal she recently won at the 2012 London Paralympic Games and giving an inspirational talk to guests.
Orz formed Kids Resource to educate, raise the awareness of, and support children in dealing with today's issues through visual arts and literature, particularly the issue of bullying. To that end, he has written and directed a short film called Day of Silence. In it, he explores the challenges faced by a small boy bullied by schoolmates and shares strategies for students, parents and schools that can protect kids from being bullied.
According to his mother and Kids Resource project manager Kate Orz "If you read Gerry's story, he was bullied because he is tall, a Jew, has gay parents, etcetera. He doesn't feel there is an effective education for younger students at this time, and this is what he is trying to fix with his films and Bullying Prevention Day."
The young Orz was instrumental in inspiring Senator Carol Liu, D-La Canada Flintridge, to introduce California Senate Resolution SCR-100, which was passed in August. The bill advocates for action in establishing prevention programs and for the observance of a day of silence on December 12th as a show of support for bullying victims. For those who cannot observe a full day of silence, Orz asks that they maintain silence for 12 seconds starting at exactly at 12:00 p.m. PST. He is also lobbying to have the day recognized by schools nationwide.
For map and location click

Here!



For more information please visit

kidsresource.org