The Taste of LA 2012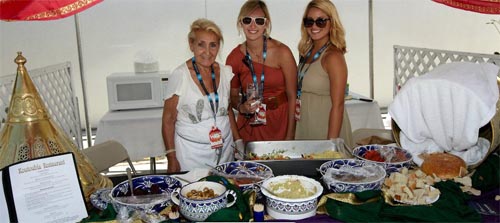 Join us for The Taste of LA as we present another fabiulous round of tasting
events in Los Angeles. Taste of LA ™ producly presents a two night tasting
of the best Morrocon food this December 1 & 2. Tickets go on sale
Nov 1, 2012 for our Third Annual Taste of LA ™.



Appetizers, Dinner, Dessert, Wine and Bubbly are all included
Menu
1.Moroccan Mezze - Assortment of Moroccan Salads: Eggplant Chouchouka,
Spiced Carrots with cumin, Beets Salad with Scallion Vinaigrette, Chopped Tomato Fattush (Chopped tomato salad in lemon vinaigrette) and Mild Roasted Peppers marinated in olive oil. All served with house-made Moroccan Spiced Bread.
2.B'stia au Poulet - Flaky filo-style pastry stuffed with braised chicken and almonds. Baked and served with confectioners sugar and cinnamon.
3.Tagine au Fenouil - Lamb shank braised Moroccan style with organic fennel, spices and market vegetables
4.Couscous aux Noix - Real Moroccan semolina couscous tossed with toasted California Walnuts as well as California Raisins and Dates
Dessert
Moroccan Mint Tea (sweetened with cane sugar or unsweetened), Michel will also prepare a "surprise dessert" to include a baked good made in house

This years event features the best Morrocan food prepatred by the 2 best kosher chefs in the world.
For more information please visit thier website at

http://tasteofla.net