Casino Angeleno: All in for LA!
Save the Date! Saturday, April 27, 2013
Petersen Auto Museum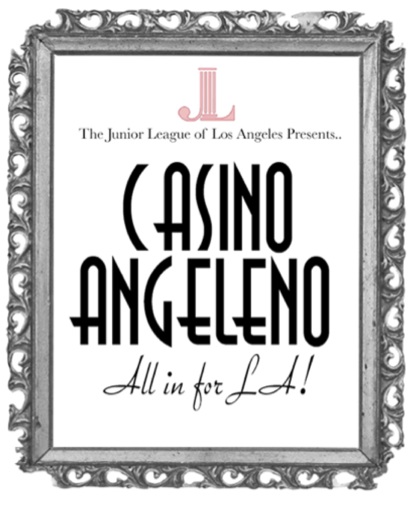 Single Tickets Now Available!

Casino Angeleno: All in for LA is set for Saturday, April 27, 2013, at the Petersen Automotive Museum!
Poker Tournament/VIP Ticket - $250
VIP Ticket - $150
Regular Admission Ticket - $100 ($125 after 4/19/13)

Click

here

here to purchase NOW!
Event Sponsorships & Underwriting

Partner with Los Angeles's premier women's community service organization! Casino Angeleno is JLLA's largest fundraising event and is attended by more than 700 guests in the Los Angeles metro region. The evening will feature an opportunity for attendees to bid on auction items, try their luck at games of chance, play a hand in our poker tournament, and enjoy an open bar and tasting menus from some of LA's leading restaurants and chefs.
Click
here
for a complete list of benefits for each sponsorship level
2013 Event Sponsorships are now ONSALE! Click
here
to purchase!
Join the Host Committee

Become an honorary host of this year's event by purchasing a Host Committee/Friend Sponsorship! This $500
sponsorship level includes:
•Two (2) VIP Event Tickets (includes valet parking, gift bag, private reception and more)
•One (1) seat in the Poker Tournament
•Name and/or Company Logo listed on invitation*, website, social media and PR
•Acknowledgment at JLLA's Annual Meeting and in the JLLA Annual Report
Click
here
to purchase!
*purchase deadline for inclusion on event invitation is February 15, 2013
Silent Auction Donations
The Casino Angeleno Committee is seeking a variety high quality items, gift certificates, services, travel, experiences and more for the event's silent auction. All donations are tax deductible and 100% of proceeds from the auction will benefit JLLA's community projects and programs. To donate to the event
please click
here
to view the donation form and instructions.
For more information contact the event chairs at
casinonight@jlla.org
Questions?
For more information contact:
Keri Eisenberg and Liz Svatek, Casino Angeleno
Co-Chairs, at
casinonight@jlla.org
Check out Casino Angeleno--All in for LA!" A great event and a great cause!
April 27!
http://casinoangeleno-estw.eventbrite.com
Follow us on Twitter
Like us on Facebook

For map and location click

Here!