2013 LAWineFest Offers Celeb Chef Demos, Tasting Classes,
VIP Access and LA's Hottest Food Trucks
The Southland's signature celebration of wine, beer, spirits and food
takes place June 8-9, benefiting homegrown charity Food Forward


LOS ANGELES, CA; (May 2, 2013) -- The 8th Annual LAWineFest will prove to be the biggest in its history, showcasing hundreds of award-winning wines from 13 countries, craft brews and artisan cocktails; plus interactive cooking demos with premier LA chefs, entertaining tasting seminars, Twitter-ific food trucks, live
music and fab boutiques add to the exciting experience.
LAWineFest Seminars

Saturday, June 8
- 2:45pm: Discovering Spain's Rioja; $15 | 3:45pm: Artisinal Cheese & Wine Pairing Adventures with Barrie Lynn, The Cheese Impresario; $35 (a sell-out every year) | 4:45pm: Walking in Their Shoes: a panel discussion with California winemakers and winery owners, $15
Sunday, June 9
- 1pm: Wine & Cheese - A Good Combo? Hosted by Terry & Wally August of Fancifull Fine Food & Baskets, $35 | 2pm: Discovering Spain's Rioja, $15 | 3pm: Artisanal Cheese & Wine Pairing Adventures, $35 (a sell-out every year)
Celebrity Chefs
Eric Greenspan of The Foundry on Melrose and Chang Sivilay of the Mandarin Hotel West Hollywood and Asia de Cuba will be presenting interactive cooking demos on the Wolf Range, one of the event's premiere sponsors.
Stella Artois Beer Garden
presented by 2013 event sponsor Stella Artois,
will offer several brew varieties on tap for all guests to enjoy.
Food Trucks & Restaurants
include Lobsta Truck, Heirloom, Tainamite, Green Truck, Slammin' Sliders, Hot's Kitchen, The Surfer Taco, Sweet Arleen's Cupcake & Bread Puddings. Plates start at $2; not included in event ticket price.
VIP Tickets
are available on Saturday, June 8 only; $30 upgrade includes early admission at 1pm, access to the VIP Garden featuring exclusive tastings and a VIP gift bag. Guests can purchase VIP tickets here:
http://lawinefest2013.eventbrite.com.
WHAT:
8th Annual LAWineFest
WHEN:
Saturday, June 8, 2-6 p.m. and Sunday, June 9, 12-5 p.m
.
WHERE:
Hollywood's Historic Raleigh Studios, 5300 Melrose Ave. LA, CA 90038
TICKETS:
$85/single; $150/couple; $20 designated driver
Visit
www.LAWineFest.com
for special advanced pricing and to purchase tickets
PARKING:
Street parking (metered on Saturday) and paid parking available at Paramount Studios lots on Bronson and Van Ness.
For more information, visit
www.LAWineFest.com.
Press queries should be directed to Sienna Spencer at
sienna@mccuecommunications.com
or call (213) 985-1011. Download
press images here
:
http://flic.kr/s/aHsjERLxfE.
About LAWineFest
Founded in 2005 by renowned wine personality Dr. Joel M. Fisher, LAWineFest is L.A.'s largest and longest-running wine-tasting event, with the goal of making wine fun and accessible for Angelenos while supporting a local charitable organization each year.
About Food Forward
Food Forward's mission is to bring together volunteers and neighbors to share in the harvesting and recovery of locally grown produce from private homes, public spaces and farmers markets, 100% of which is then distributed at no cost to agencies serving our community's most vulnerable.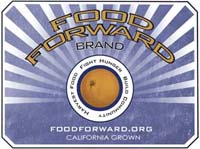 For map and location click

Here!