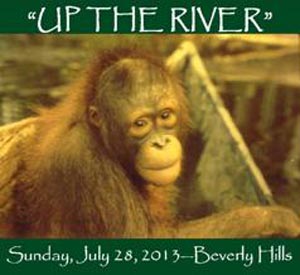 Annual Fundraiser
"Up the River"
re-boot- July 28, 2013
Rain caused the postponement of our annual fundraiser last November but it didn't wash away our spirit or plans bring it back online for 2013. Plan to attend our annual event on Sunday, July 28, 2013 in Beverly Hills. The fundraiser will start at 5pm and last until 8pm.
Once again we plan to have Ed Begley Jr. and Fritz Coleman as our celebrity supporters. Fritz does a fantastic job as emcee and Ed is always inspirational. We will have diverse entertainment and tasty food and drink to make this afternoon/evening event enjoyable. Since the main purpose is to raise funds, we will have a live and silent auction. We will also be having a few wonderful surprises which will make the fundraiser unforgettable.
Supporters who purchased tickets last year will be given access at no additional cost (though we hope they will do some active bidding on our silent auction items). If you didn't purchase tickets last year, you can purchase them in advance. Visit our Facebook event page to let us know you plan to come and click the "get tickets" button.
Our hosts are providing their beautiful home and are helping to underwrite the event. To respect their privacy, we will provide their address once you register to attend the fundraiser. If you have paid previously, kindly email us at
info@orangutanrepublik.org
for the address of the event.
For more information please click

Here