SAXOPHONIST KENNY G TO PERFORM AT
27th ANNUAL EVENING UNDER THE STARS
GOURMET FOOD & WINE FESTIVAL
TO BENEFIT TORRANCE MEMORIAL MEDICAL CENTER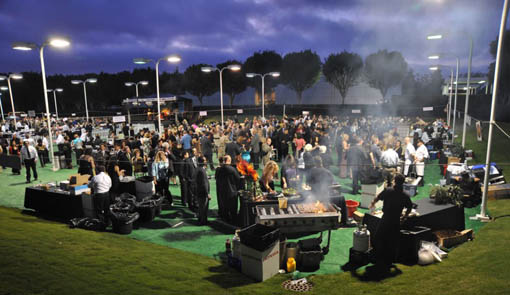 Torrance, Calif., May 10, 2013 – World-renowned saxophonist Kenny G will serenade guests with his soulful instrumentals at the "Evening Under the Stars with Kenny G, 27th Annual Gourmet Food & Wine Festival," Saturday, July 20. Hosted by American Honda at its Torrance campus, Evening Under the Stars celebrates the best in South Bay cuisine while raising funds for nonprofit Torrance Memorial Medical Center.
"We are so grateful that American Honda has once again selected Torrance Memorial Medical Center to benefit from this longstanding community tradition," Laura Schenasi, executive vice president, Torrance Memorial Health Care Foundation, said. "The proceeds advance our fundraising goals as we enter the final stretch of capital campaign toward construction of the new Main Tower that will benefit the health care needs of the entire South Bay."
The Festival, presented in partnership with the Torrance Area Chamber of Commerce, will take place from 6 p.m. to 9:30 p.m. Tickets are $150 per person, $250 per pair or $4,000 for table sponsors (10 guests per table) and can be purchased by calling the Chamber at 310-540-5858, the Torrance Memorial Health Care Foundation at 310-517-4703, or by visiting
www.TorranceMemorial.org
.
Funds raised from the event will benefit Torrance Memorial's new Main Tower and Pediatric Services. This marks the eighth consecutive year Honda has chosen Torrance Memorial as the event's beneficiary. In that time, Evening Under the Stars has raised nearly $700,000 for Torrance Memorial. Last year more than 800 community members attended, with $150,000 of the evening's proceeds donated to Torrance Memorial.
To date, the following restaurants and beverage partners will be offering their fare and tastings at the Festival:
•Alpine Village
•Amore Vino
•Café Honda
•Costco Torrance
•Chef Shafer's Depot and Buffalo Fire Department
•DoubleTree by Hilton Torrance – South Bay
•Fleming's Prime Steakhouse & Wine Bar
•Fresh Brothers
•Gonpachi at Miyako Hybrid Hotel
•Gourmet Grindz
•Il Fornaio
•Kincaid's
•Jackson's Food & Drink
•Lucky Strike Lanes & Lounge
•Disneyland Resort Sommeliers
•Nothing Bundt Cakes
•Ortega 120
•Palos Verdes Golf Club
•Paul Martin's American Grill
•Red Car Brewery & Restaurant
•Riboli Family Wine Estates
•ROCK N'FISH
•Shade
•The Strand House
•Sushi Boy Inc./Soya Farm USA, Inc.
•Sushi Chef Institute
•The Honda Classic
•Torrance Marriott South Bay
For an up-to-date list of participating restaurants, entertainment details and
other event information, visit the Festival's Facebook page at
www.facebook.com/eveningunderthestars
.
Approximately 80 varietals of wine will be served and professional sommeliers from The Disneyland Resort will be on hand to educate guests about wine.
American Honda created the Gourmet Food & Wine Festival in partnership with the Torrance Area Chamber of Commerce in 1987 as a way to bring corporate business, residents, and local commerce together with city officials for a relaxing community celebration.
To date, Torrance Memorial has raised more than $137 million, more than half of its fundraising goal of $200 million, to construct the new Main Tower. The $450 million, 398,250-square-foot Patient Tower is scheduled to be completed in November, 2014.
About Torrance Memorial Medical Center

Founded in 1925 by Jared Sydney and Helena Childs Torrance, Torrance Memorial Medical Center is a locally governed, 401-bed, non-profit medical center established to provide quality healthcare services, predominantly to the residents of the South Bay, Peninsula and Harbor communities. Torrance Memorial seeks to offer the most current and effective medical technologies rendered in a compassionate, caring manner. In 2012, it joined the ranks of the top hospitals in the nation by earning coveted Magnet® recognition from the American Nurses Credentialing Center, which recognizes nursing excellence. For more information please visit:
www.TorranceMemorial.org
.
About American Honda

Honda is one of the world's leading producers of mobility products including its diverse line-up of automobiles, motorcycles and ATVs, power products, and marine engines. Over 90% of Honda and Acura vehicles sold in the U.S. are produced in North America, using global and domestically sourced parts. Honda is committed to supporting the communities where we work and live. Through a broad range of community initiatives, charitable giving, foundation grants, and volunteerism, we seek to create value for society and bring joy to people's lives.