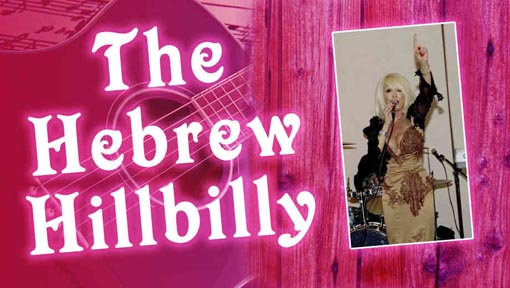 The Hebrew Hillbilly®, written and performed by singer songwriter Shelley Fisher, is a musical one woman show which chronicles Ms. Fisher's Hollywood odyssey that begins in the heart of the Mississippi Delta in her hometown of Memphis, Tennessee, birthplace of Rock 'n' Roll, Blues and Bar-b-cue. Growing up Jewish in the deep South with a flamboyant mother who frowned on her dating the local redneck boys, the Hebrew Hillbilly begins singing as a little girl and never stops. From her early years as a blonde bombshell, through her current incarnation as The Memphis Belle of L.A., Ms Fisher has been on a show business rollercoaster that slows down just long enough for her audience to climb on board this deeply personal, yet universally appealing and hilarious ride. The production is directed by Chris DeCarlo and produced by Debra Ehrhardt, with 14 original songs written by Shelley Fisher, Kenneth Hirsch, and Harold Payne.
You do not have to be Jewish to enjoy our show, THE HEBREW HILLBILLY, but you do have to be human, like blues, rock 'n roll, and great original songs. Our next performance is Saturday, October 12 at 8:00 PM at the Santa Monica Playhouse (1211 Fourth Street, Santa Monica, CA). You are welcome to purchase full priced tickets at www.brownpapertickets.com or visit www.goldstar.com at the link below for the few half priced remaining tickets.
http://www.goldstar.com/events/santa-monica-ca/the-hebrew-hillbilly-1
Due to the great response and reviews we are receiving tickets are selling fast. Please buy your tickets today.
We're also looking forward to performing at the Newman Theatre at the Joslyn Center in Palm Desert, Sunday July 7 at 2:00 PM. All information regarding ticketing, performance dates, reviews, and music samples are available at
www.hebrewhillbilly.com
.
See y'all soon,
Shelley and Kenny
The Hebrew Hillbilly: Solo Show From Singer Shelley Fisher
For map and location click

Here!