7th ANNUAL WHITE LIGHT WHITE NIGHT FUNDRAISING GALA
TO RAISE FUNDS FOR ANGELENOS AFFECTED BY
FAMILY MEMBERS WITH CANCER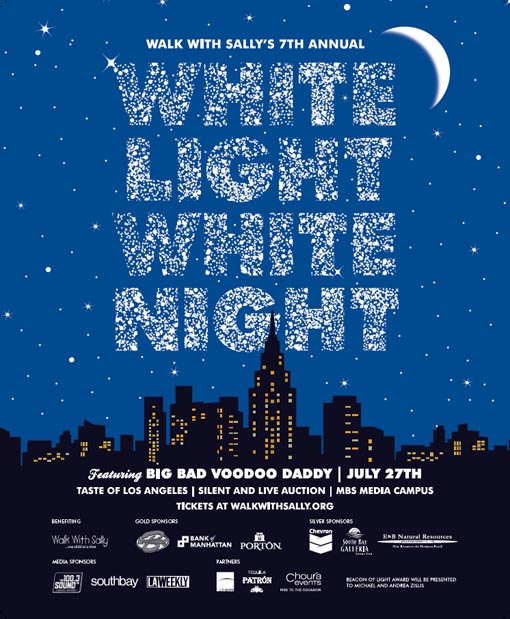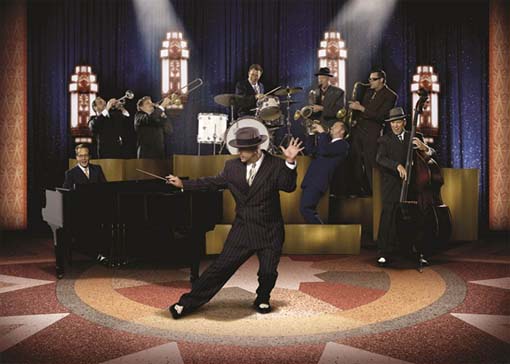 South Bay Non-Profit Walk With Sally Hosts an
Unforgettable Summer Fundraising Event: "Taste of L.A.",
Drinks by Patrón and Entertainment by Big Bad Voodoo Daddy
May 30th, 2013, Los Angeles, CA:
In the prime of the illustrious summer season in Los Angeles' picturesque beachside town of Manhattan Beach, over 1,000 will gather for a jiving night of music, food and fun. The evening will celebrate the connecting power of friendships fused with shared experiences and a common passion to make an impact for non-profit
Walk With Sally
for their annual White Light White Night fundraiser.
On July 27th, 2013, MBS Media Campus will transform into a vintage white Hollywood soiree with a live performance by swing sensation
Big Bad Voodoo Daddy
. The evening, dedicated to raise funds and friends through a majestic experience of light, love and laughter will also feature the decadent "Taste of Los Angeles" with samplings from renowned local restaurants, silent and live auctions and premium signature cocktails and wine. The evening is a true party, celebrating the triumphant spirit of the Walk With Sally children, and invites supporters to contribute to our organization's life-altering mission. The Beacon of Light Award, which honors individuals who give above and beyond year after year to help grow Walk With Sally's mission, will also be presented at the event. This year, the award will be presented to Mike and Andrea Zislis of Zislis Group and Shade Hotels for all of their hard work and support throughout the years.
Last year's White Light White Night, raised over $185,000 for Walk With Sally's free programs for children whose parents or siblings are fighting or have died from cancer. The event hopes to be an equally smashing success, raising funds for the organization's programs and inspiring new advocates to join in the nonprofit's mission to provide a haven of healing for children struggling to handle the adult sized task of dealing with cancer in the family.
Featured restaurants include Manhattan Beach's newly opened modern European Chez Soi, Playa Del Rey's popular small dish locale The Tripel and El Segundo steakhouse Paul Martin's American Bistro, among many others. Sponsors of the evening include Bank of Manhattan and Browning Automotive Group. Tickets will go on sale on Thursday, June 20th. For more information about White Light White Night please visit the event site at:
www.whitelightwhitenight.org
.
About Walk With Sally
Walk With Sally is dedicated to providing mentoring and support programs to children of parents or siblings with cancer —
one child at a time, one heart at a time
.
Walk With Sally is committed to providing healing and comfort to children debilitated by the emotional experience of living with or losing a parent or sibling to cancer. The healing is facilitated through free of charge mentoring support programs and services that provide an emotionally safe environment for children to share their difficult experience with someone who has suffered the same. Walk With Sally is a Los Angeles-based, registered 501(c)3 non-profit organization.
For additional information or to find out how to become a mentor visit us at
http://www.walkwithsally.org
, follow us on Twitter at
http://www.twitter.com/walkwithsally
and "like" us on Facebook at
http://www.facebook.com/walkwithsally
.
About Patrón

Patrón Spirits, one of the fastest-growing companies in the ultra-premium beverage alcohol industry, will be back again this year with signature cocktails and their popular make-your-own-margarita bar. Patrón's portfolio of luxury spirits— Patrón tequila and liqueurs, Ultimat vodka, and Pyrat rum—are available in more than 120 countries across the globe. The company's flagship brand, Patrón tequila, is an ultra-premium luxury white spirit that's delicious on the rocks, and mixes flawlessly into most any cocktail. From the highest-quality Weber Blue agave plants grown in the highlands of Jalisco, Mexico, to the centuries-old distillation process, to the signed, handcrafted glass bottles, Patrón is produced with unparalleled attention to sophistication and detail. For more information, please visit
www.patronspirits.com
or join the Patrón Social Club at
www.patronsocialclub.com
.
For more information please visit thier
website at

www.whitelightwhitenight.org



For map and location click

Here!