2013 Long Beach Grand Cru
International Wine Competition and Tasting
Benefiting the Legal Aid Foundation of Los Angeles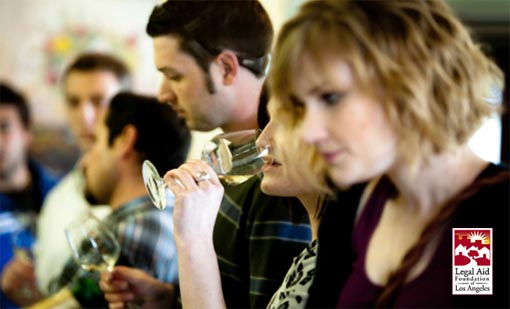 Long Beach, CA, June 1, 2013: Enjoy a wonderful evening of wine, food and live music against the scenic backdrop of the Long Beach shoreline at the 2013 Long Beach Grand Cru Public Tasting on Saturday, July 13th from 6:00PM – 9:00 PM at Rainbow Lagoon Park in downtown Long Beach. Sponsorship levels range from $2,000 - $15,000; individual tickets are $225 per person ($200 early bird discount rate available through June 15). For more information, please visit the website at
www.longbeachgrandcru.org
.
The Long Beach Grand Cru is both a premier international wine competition and a festive public tasting event, the proceeds of which benefit the Legal Aid Foundation of Los Angeles (LAFLA). Established in 1995, the Grand Cru has grown in size and prestige and become well-known nationally and internationally. The wine competition attracts worldwide winery participation and in 2012, there were wineries entering 1,254 wines. Medals are awarded to winners in the following categories: Sweepstakes, Chairman's Best of Class, Gold, Silver and Bronze. After the judging, competition wines are served at the Public Tasting together with cuisine from over 20 local restaurants and specialty food stores, with live music and silent and live auctions rounding out the festivities. In 2012, the Public Tasting attracted approximately 1,000 attendees and together with the competition raised nearly $300,000. Since its inception the Grand Cru has raised over $3,900,000 for LAFLA programs and services.
The Legal Aid Foundation of Los Angeles (LAFLA) is the frontline law firm for poor and low-income people in Los Angeles. With a mission to achieve equal justice for people who struggle to survive in poverty and confront barriers to equal justice, equal opportunity and, too often, basic human rights , LAFLA changes lives through direct representation, systems change and community education.
Established in 1929 to ensure that the poor have access to the civil justice system, LAFLA is one of the oldest and largest legal aid organizations in California, with six community offices, three courthouse domestic violence clinics and four Self Help Legal Access Centers spanning metropolitan LA County from Santa Monica and Venice to East Los Angeles and Hollywood and mid-city Los Angeles to South LA and the Long Beach/Harbor area. The Foundation offers programs and services in civil legal matters to low-income and poverty level families in time of need as they struggle to gain self-sufficiency. LAFLA also changes entire communities by helping to develop sorely needed jobs, affordable housing units, veterans' services, child care, youth services and other support systems in disadvantaged neighborhoods. In 2012, LAFLA's poverty law experts, aided by a network of dedicated supporters and volunteers, provided free legal assistance to more than 13,500 individuals and families and important legal information and education to over 55,000 others, helping them escape domestic violence, avoid homelessness, obtain food and health care for themselves and their children, defend their employment and consumer rights and move from welfare to work.
For map and location click

Here!