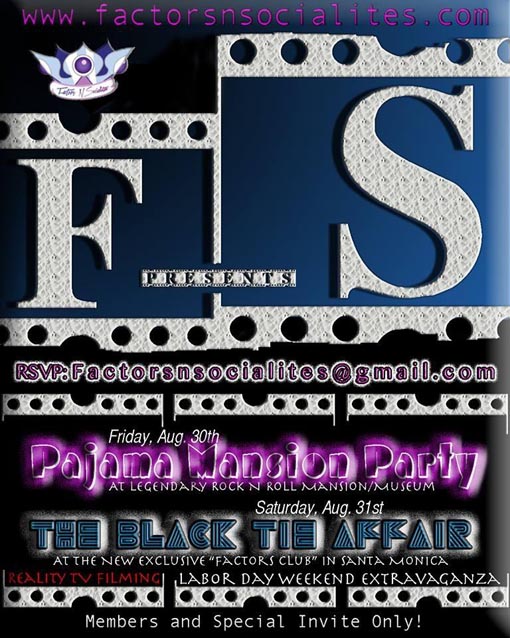 Factors N Socialites Labor Day Weekend Extravaganza
Every successful person has their own network but just because your successful doesn't mean you know everyone. Thats where i come in, Im a connector.
Los Angeles-Long Beach, CA (1888PressRelease) July 31, 2013 - The way we handle business has a new meaning. In a world where many people don't get thrilled about sharing resources, a new company has come along to define coming together as one. Only a smart business person understands the power of networking and the advantages it has to evolve into greatness. Business is never based off of talent, nor is it based off of hard work. Business comes down to who you know and who knows you. Talent is what makes you legendary, hard work keeps your business life span going but high end networking is what gets you in the doors to explore the great things that life has to offer. When you have the combination of networking skills, talent and hard work, the sky is the limit for any business person who wakes up everyday aiming to be top shelf.
Factors N Socialites Founder/CEO Kenneth Monroe had a vision. His vision was to take networking to new heights and open up people's minds with love and brilliance. At only 31 years old and a powerful independent resume of individual accomplishments hanging over his head, the destiny of Kenneth Monroe is not only advancing himself but to advance others to a higher level in their careers.
"I've always been a team player. I'm very grateful for my individual accomplishments and the respect I've earned but life is about growing and I want to continue to grow with other like minded professionals. I've never been one of those know it all people and thats why many older successful people who have came before me love to have me around and work with me. Every successful person has their own network but just because your successful doesn't mean you know everyone. Thats where i come in, Im a connector. I love connecting positive people on a business platform. If I like you as a person then I don't mind sharing any resource I have if it can help you. Life is about love and I show love to everyone." (Monroe)
It takes a special kind of individual to make successful people drop their egos and become rich in spirit. In Hollywood, it's rare that people go around and give connections and involve people for free. 99% of the time there is a fee upfront, a fee later down the line and many times people just don't want to be bothered in helping the next person. That is what makes Kenneth Monroe a natural born leader. Leaders have power, leaders are influential and leaders make everyone light up around them.
"I love collaborating with Monroe and his "We are better together" attitude towards life. He embraces what the California Women's Conference and Women Network are all about. Magic happens when we come together to create life changing events. Monroe your energy and excitement for life is contagious my friend." (Michelle Patterson/California Women's Conference Executive Director/CEO Women Network)
"Many celebrities can host a party with other celebrities and media in attendance. Monroe is hosting an extravaganza with the spectacle, grace, dignity and passion that only a Prince can create. I have been searching for a young man with the knowledge, creativity and character that Monroe possesses. I love people who dream and live their dream. He is one of those unique individuals and very inspirational. Monroe is a modern day combination of The Fresh Prince Of Bel Air and Star Trek. I definitely consider myself blessed to be in his crew. What an incredible journey this will be." (Barry Axelrod/President/CEO Swirls Desserts/Cupcakes)
"When I met Monroe he was winning an award. I didn't know who he was but I knew he was someone that I needed to know. His dedication to what he believed in, he's on fire and I can feel his greatness when he speaks and see it in his presence. This world was created by go getters, Monroe is that and more and I want to be apart of anything he's doing. His main goal of connecting great people says that he understands what it takes to be successful." (Shane Sparks/So You Think You Can Dance/You Got Served/America's Best Dance Crew)
"I first heard his interview on the Gina show in New York as I hosted the second part of her show via phone from Vegas. He seemed down to earth, witty, smart; someone I wanted to work with and he's handsome. I really enjoy networking and I love the thrill of not knowing who you are going to meet. The success created from what he has done is endless and Im happy to be apart of it." (Heather Marianna/Las Vegas Socialite and high end beauty product owner)
Monroe will also be filming a reality show special/doc as cameras will follow him around the entire weekend capturing the man behind the vision. We will watch him in action handling business and will also witness the personal side of him. The special will also come with a soundtrack and will be released in the Fall.
"I had to embrace this moment. I've had opportunities to do reality shows. I remember being in the office for hours at big production companies to get pitched on a show. I wasn't feeling the vision and storyline. I'm a leader so I'm not with all of the gossip, drama and nonsense. What has our world come to? Im bringing inspiration back to the game. Some people will do anything just to be on TV and I'm not one of them. This is a chance for me to do it my way and show people a character that's not on TV right now. I've always been a trendsetter and I will forever be one." (Monroe)
"Monroe has an infectious attitude and is one happy SOB. He follows up, gets it done and love what he does. He has absolute confidence. Connection and collaboration is the key to success and Monroe has this concept nailed. He knows that accomplishment is everything and that accomplishment guarantees association." (Scott Evans/High Profile Inventor)
For more information please visit their website
at

http://www.1888pressrelease.com