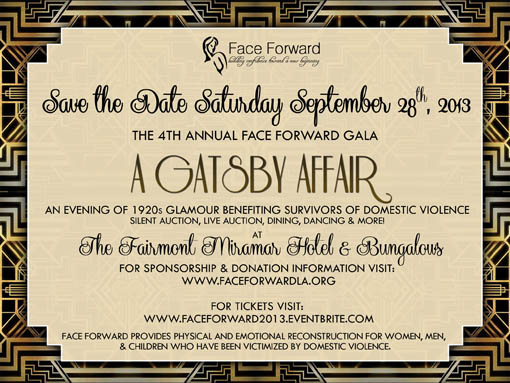 Face Forward Charity Announce Fourth Annual Gala To Be
"A Gatsby Affair" Benefiting Survivors of Domestic Violence

Dr. David and Deborah Alessi Present Fourth Annual
"Face Forward" Charity, A Gatsby Affair Gala Scheduled
For September 28, 2013 at the Fairmont Miramar
Hotel & Bungalows, Santa Monica
Beverly Hills, July 29, 2013– Non-profit organization Face Forward (www.faceforwardla.org) will once again place the spotlight on the important global issue of domestic and gang violence at its much-anticipated fourth annual charity gala. The "A Gatsby Affair" themed gala is to be held on September 28th, 2013 at the luxurious Fairmont Miramar Hotel and Bungalows in Santa Monica, California.
Face Forward founder and CEO Mrs. Deborah Alessi founded Face Forward in 2008. Mrs. Alessi is a survivor of domestic violence and a true advocate of this worthy cause. To help other survivors get a second chance at life, Mrs. Alessi recruited her husband and renowned facial reconstructive surgeon Dr. David Alessi M.D.
Mrs. Alessi said, "When we started, it was a small gathering and I had no idea what I was doing, only that I was extremely passionate about this cause. Initially we had about 100 people attend the first one, then we did a few events at stores and I took very small steps. Now we have grown to this amazing event and this year we are expecting 400 guests. Although this is not a glamorous cause, I make sure to produce an event where the supporters enjoy themselves and celebrate their ability to help change lives. We want to make sure our supporters come back for more and continue to support this extremely important global cause!"
Dr. David Alessi added, "Deborah and I are humbled by the continuous and growing support for our annual philanthropic event. Our wish is to draw attention to the atrocity of the worldwide problem of domestic violence and abuse. Face Forward's annual fundraising efforts enable us to help more and more victims in their journey to achieve both physical and emotional healing and recovery."
The star-studded red carpet event will consist of a stunning outdoor cocktail reception, silent auction, live musical entertainment and Gatsby themed entertainment. This is to be followed by a gourmet dinner and the awards ceremony.
The live auction is to include luxury items such as a three night stay in a deluxe one bedroom ocean view villa at the prestigious Four Seasons Resort Koi Samui, Thailand, complete with spa treatment and breakfast http://www.fourseasons.com/kohsamui/
Another special live auction item was kindly donated by Turkish Airlines, who continue to support the Face Forward message and gave 2 International business class airline tickets to Turkey or anywhere else in the world, including a five star hotel stay.
Confirmed title sponsors of the upcoming event include Torrey Pines Bank who are the official sponsors of the Face Forward kick off party, Turkish Airlines and the Four Seasons Resort, Thailand.
Honoree: Face Forward is proud to announce that the 2013 'Face Forward Community Philanthropist Of The Year' has been awarded to Jake Kloberdanz CEO/Founder ONEHOPE wine which donates half of its profits to many charities and has donated a more than a million dollars since its inception. Kloberdanz is also the founder of the ONEHOPE Foundation which supports charities donating 100% of monies raised.
Additionally, the annual Face Forward Voice Award will be presented to the individual who best uses his/her persona and fame to create global awareness for the tragedy of domestic violence and abuse.
Honorary Committee members for the 2013 gala are Tom Arnold & Bonnie Somerville (they both co-hosted in 2012), Charlotte Ross, Jennifer Coolidge, Virgil Hill, Vanessa Marcil, Dennis Smith, Katie Cleary-Stern, Theo James, Kevin Alejandro, Shaun Toub and Dr. Jenn Berman.
About Face Forward (faceforwardla.org)-- Renowned plastic surgeon and biochemist David Alessi, and Deborah Alessi, CEO of Alessi Skincare founded Face Forward in 2007. Face Forward is a 501(c) non-profit organization. The organization provides facial surgical reconstructive services for women and children who have been victims of violence through gang or domestic violence. The organization vows to offer each victim with the best possible treatment pro bono. Since its creation, Face Forward has worked with community leaders around the nation to identify victims of violence who are legitimately working toward recovery and who carry the physical evidence of past abuse. Face Forward is only one humble part of the recovery puzzle, however, the immediate results of its healing efforts provide individuals with the confidence to literally put their best "face forward" once again.
For more information or to purchase tickets please visit their
website at

http://faceforward2013.eventbrite.com/