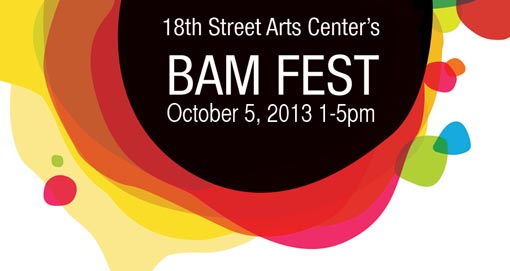 18th Street Arts Center's 4th Annual
Beer Art & Music Festival is the trifecta of all things good!
Santa Monica, CA
- On Saturday, October 5, 2013 from 1 p.m. to 5 p.m.,
18th Street Arts Center
, is bringing its renowned BAM Fest (Beer, Art and Music Festival) to the Westside of L.A. Held in the heart of Santa Monica, BAM Fest celebrates the best of locally produced art and music in conjunction with a variety of delicious craft beers. With 34+ craft breweries, 3 bands, open galleries and artist studios, Crash Courses to learn, as well as gourmet food trucks, BAM Fest is well equipped to draw record-breaking crowds in its fourth year as one of the LA's most anticipated cultural celebrations.
The event is a steal, with tickets priced at just $45 before September 22nd, $50 afterwards. BAM Fest attendees will love spending a Saturday afternoon sipping in the sun, interacting with artists and exploring significant artworks while listening to groovy tunes. But what really makes this event special for its guests is that they know that all proceeds benefit 18th Street Arts Center, a 25-year old, influential non-profit arts organization in Santa Monica. It is a culturally infused event that benefits a great cause. Green Flash Tasting Room Beertender, Justin Evelyn states, "BAM Fest is one of my favorite LA festivals and we're happy to participate again this year."
This year 18th Street has teamed up with artisanal drink, food and cultural event planner, Nicole Gordillo Schimpf of
Tap & Cheer Events
as well as Martin Svab, co-founder of the small batch beer endeavor
Phantom Carriage
to help produce this multifaceted event. Participating breweries have been carefully selected by the team and represent the best of the craft beer industry. The 34+ breweries range from big to small, including the popular and widely known Sierra Nevada Brewing and Stone Brewing Companies to newly launched breweries like Los Angeles Ale Works who got their start through a recent Kickstarter campaign. The diverse craft beer offerings at 18th Street's Beer, Art and Music Festival present a range of styles for tasting enjoyment. For the beer connoisseur, this year's BAM Fest is showcasing limited release seasonal beers on tap, such as Samuel Adam's Fat Jack Double Pumpkin, hoppy treats from The Brewery at Abigaile, and unique and uncommon brews from The Dudes' Brewing Company. A special bonus for BAM Fest attendees will be the opportunity to participate in 20-minute mini-educational sessions called Crash Courses that will cover everything from beer and food pairing to how to make your own homebrew. And for those who prefer fermented grapes to hops there will also be an area to sample some of Southern California's finest wines as well as home brewed sodas by Pacific Gravity Home Brewers Club.
The music lined up for BAM Fest is just as diverse as the beer samples. From the Latin infused rhythmic sounds of "KoTolàn" whose songs, celebrating cultural diversity, are sung in Japanese, Spanish and English to the dance-inducing soulful funk of "Cory Phillips and the Groove Orchestra", the featured music at 18th Street's festival is sure to make attendees move. Brandishing some lyrical weaponry with a unique style, Ben Bateman and his pop trio will also create upbeat tunes rooted in rock and folk that pulsate with energy.
BAM Fest guests also have the special opportunity to explore a dynamic installation by 18th Street's Lab Artist, Adrià Julià. Incorporating film, video, and photographic installations Adrià Julià embarks on a new project that focuses on the relationship between the camera and the bodies that operate it, such as cinematographers. Delving into the layers of translation between the moving image, industrial design, and ergonomics, Julià's work analyzes the structure and function of commercially produced cameras and the biochemical systems of the body. In addition, the resident artists who create daily at 18th Street Arts Center open their studios for attendees to experience works in progress. Current artists and art organizations whose studios will be open include Cheryl Walker, Yvette Gellis, California Lawyers for the Arts, Highways Performance Space and EZTV.
Need a little something to soak up all the scrumptious brews? Naturally you can't have a festival in Los Angeles without food trucks. A diverse selection of six food trucks will provide a bounty of signature dishes that should keep your grumbling stomach at bay. With the marriage of beer, art and music, BAM Fest has brewed a one-of-a-kind fundraising event. This is one craft beer festival you don't want to miss!
Don't want to drive? There will also be a FREE Bike Valet, so cruise on down!
Tickets are on sale at:
https://bamfestival.eventbrite.com/
. A list of current participating Breweries is attached. For more information about BAM Fest 2013 and 18th Street Arts Center visit:
http://www.18thstreet.org
.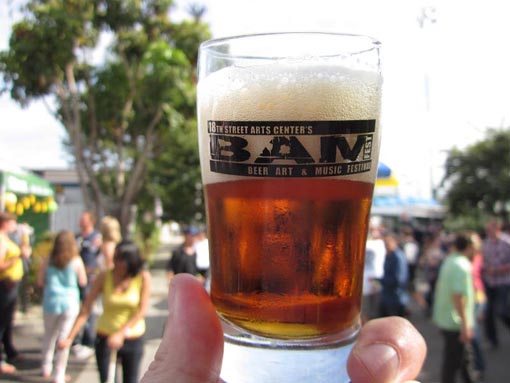 Current Participating Craft Breweries
Ale Industries
Anchor Brewing Company
Anderson Valley Brewing Company
Angel City Brewing Company
Ballast Point Brewing Company
Beachwood BBQ & Brewing Company
Boston Beer Company
Brasserie d'Achouffe
Brewery at Abigaile, The
Brewery Ommegang
The Bruery
Cismontane Brewing Company
Dogfish Head Brewery
Drake's Brewing Company
The Dudes' Brewing Company
Duvel-Moortgat
El Segundo Brewing Company
Firestone Walker Brewing Company
Golden Road Brewing Company
Green Flash Brewing Company
Hangar 24 Brewing Company
Los Angeles Ale Works
Ladyface Ale Companie
Liefmans
Monkish Brewing Company
New Belgium Brewing Company
Noble Ale Works
Phantom Carriage
Pizza Port, Carlsbad
Port Town Brewing Company
Sierra Nevada Brewing Company
Smog City Brewing Company
Speakeasy Ales and Lager
Stone Brewing Company
Strand Brewing Company
Surf Brewery
For map and location click

here!