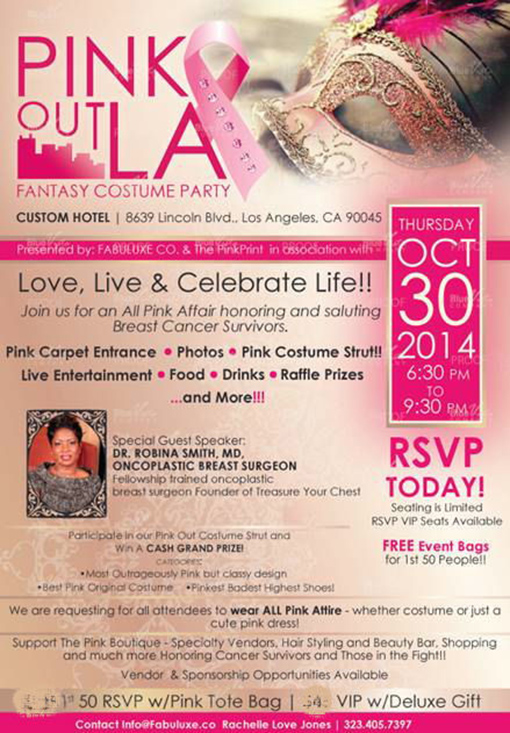 Fabuluxe Co. Presents #PINKOUTLA
Honoring Breast Cancer Survivors - A Pretty in Pink - Costume Soiree
Los Angeles, CA October 8, 2014 - -¬ Rachelle Love Jones, creative director and couture event stylist of Fabuluxe Co.™ is excited to present #PINKOUTLA | A Fantasy All Pink Costume Soiree – to honor Breast Cancer Survivors in recognition of Breast Cancer Awareness month.
The event will take place at the Custom Hotel, 8639 Lincoln Blvd, Los Angeles, California. Thursday, October 30, 2014 – 6:30 PM. Event will begin with Pink Carpet Arrivals, Pink Signature Cocktails, VIP Reception, A Pink Boutique, featuring specialty vendors, offering unique products and services. Ladies are encouraged to wear all pink attire. Come get pampered at the beauty bar, participate in the costume strut; win a cash grand prize and other fabulous gifts.
This is a unique fundraising event designed by Fabuluxe to empower and educate women about the importance of breast care, self-examination, early detection and yearly mammograms. Event will benefit The Denise Roberts Breast Cancer Foundation and Treasure-Your-Chest LLC. We have invited Dr. Robina Smith to speak about importance of early detection which saves lives and several breast cancer survivors will share their personal stories on how they overcame adversity of breast cancer to triumphant. Life is beautiful and should be celebrated in a fashionable, memorable and stylish way. We invite all breast cancer survivors and supporters to come together for an evening fun, laughter, sisterhood and most of all giving back. Our mission is to honor the lives of loved ones gone but not forgotten and celebrate the triumphant lives of breast cancer survivors! #PinkWarriors
The Denise Roberts Breast Cancer Foundation, (TDRBCF) is a 501 (c) – (3) nonprofit organization, which exists to change the consciousness of women and men of color, to one of health and self-awareness. TDRBCF exists to change the perception of breast health awareness to one that has little to do with age or gender - to one of understanding that acts as a mighty bridge over troubled waters. We strive to touch the underserved community in a way that replaces fear with knowledge and empowerment.
www.tdrbcf.org
We are excited to have our generous partners and sponsors onboard, which include: Custom Hotel, PF Changs, MAC Cosmetics, Victoria Secrets, Younique Cosmetics, DavaHart Designs, Tears of Joy Events, Hey Girlfriends Network, Monique Hogan Weddings & Events It Works, Ardysis International and a host of others.
About Rachelle Love Jones, Fabuluxe Co.
Rachelle Love Jones, MBA founder of Fabuluxe™ Co. and creator of the Pinkprint Branding Academy™ allows her passion for all things glamorous to shine with brilliance. Offering over 20 years expertise in event design, styling and planning, her desire to empower women through helping them celebrate life in a fashionable way creates an irresistibly style. Rachelle's eye for opulence and use of custom-designed props, lush textiles, unique elements, and ornate décor has made Fabuluxe synonymous with impeccable, gorgeous, original events. More importantly, Rachelle's high-level concierge approach and keen understanding of time and planning have earned her clients' accolades.
Vendor & Sponsorship Opportunity
Exclusive vendor and sponsorships opportunities are available to showcase and give back in a fun, yet creative positive atmosphere.
Tickets for #PinkOutLA
are available online via
https://Pinkoutla.eventbrite.com
www.fabuluxe.co
for more information; media credentials, sponsorship, etc. contact Rachelle Love Jones, Fabuluxe Co.
info@fabuluxe.co
| 323.405.7397 | Follow us on Twitter @FabuluxeCo
For more information or to purchase tickets please
click here

www.eventbrite.com/e/pinkoutla



For map and location click

Here!