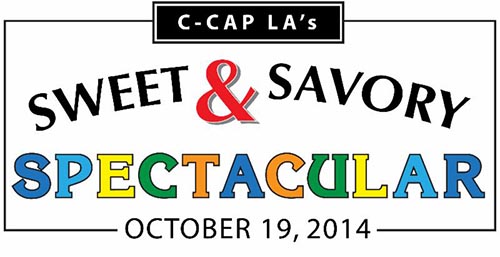 LOS ANGELES SWEET & SAVORY SPECTACULAR BENEFIT
TO FEATURE FOOD FROM MORE THAN 50 TOP CHEFS
Fundraising Event will Celebrate Food, Craft-beer, Premium Wines & Spirits and Raise Funds for the C-CAP Los Angeles Scholarship Program for At-Risk Youth (Santa Monica, CA) – Guests are invited to join renowned local restaurants Connie & Ted's, The Church Key, Chinois on Main, Angelini Osteria, Hamasaku, Petrossian, Charm City Cakes and other celebrated restaurants as they prepare an array of tastings at Careers through Culinary Arts Program's (C-CAP) Sweet & Savory Spectacular, a fundraising event. Honorary co-chairs are renowned pastry chef, Sherry Yard, and chef and restaurateur, Suzanne Goin.
On Sunday, October 19 at the Art Institute of California Los Angeles - located at 2900 31st Street, Santa Monica CA 90405 - the event will feature a craft beer, premium wine and Spirits tasting garden and the Sweet & Savory Chef's Challenge - a "Chopped" style cooking competition where C-CAP graduates will compete to showcase their talents and test their skills, speed and creativity. Judges Barbara Fairchild, Editor of Real Eats, Sherry Yard of Helms Bakery, Kimmy Tang of 9021Pho, Miki Hackney of Melissa's World Variety Produce and KABC's chef personality, Jamie Gwen will determine the winners. Other event offerings include various one-hour cooking classes by Chef Jamie Gwen, Larry Canepo and a representative from Best Wines, live demonstrations from high-profile chefs and a silent auction.
"We awarded nearly $600,000 in scholarships at last year's 19th annual C-CAP LA Awards Breakfast," said C-CAP Los Angeles Program Director, Mitzie Cutler. "We hope this year's support will be as or more successful; allowing us to continue our programs, which also include job training, internships, college and career advising."
• General Admission: 4 - 7 p.m. $100 includes access to all tastings, classes, demonstrations, "Sweet & Savory Challenge" and a gift bag. General admission tickets will be sold at the door at $125 each.
http://ccaplasss.bpt.me
• VIP Tickets: 3 - 7 p.m. $150 includes early access to all tastings, classes, demonstrations, "Sweet & Savory Challenge," and a special VIP gift bag.
http://ccaplasss.bpt.me
• For tickets and information, visit
http://ccaplasss.bpt.me
or call Gloria Barke at (818)756-1260. Tickets are limited.
About C-CAP Los Angeles:
A national non-profit that prepares at-risk high school students for college and careers in the restaurant and hospitality industry. For the past 25 years, C-CAP has provided job training and internships, scholarships, teacher training, cooking competitions, college and career advising and product and equipment donations. In the 2013-14 academic year it served over 17,500 students in 160 high schools and awarded almost 200 scholarships totaling over $3 million. Through C-CAP's efforts, a large percentage of its students find rewarding careers in the foodservice and hospitality industry. In Los Angeles, C-CAP was able to work with 3,000 students in 25 schools and award nearly $600,000 in scholarships in the 2013-2014 academic year. For more information, visit www.ccapinc.org.
For more information or to purchase tickets
please click here

http://ccaplasss.bpt.me



For map and location click

Here!