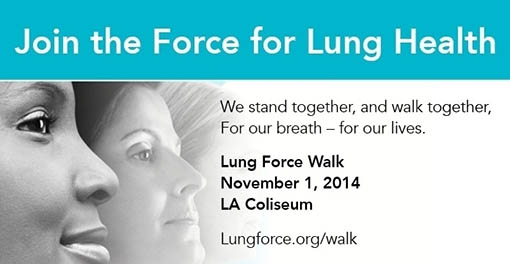 LUNG FORCE Walk Los Angeles to Benefit the
American Lung Association in California
November 1 @ 7:30 am - 12:00 pm

We walk because of the frightening rise of Lung Cancer in women.


Join us on
Saturday November 1st
at the
American Lung Association in California's
LUNG FORCE
Walk Los Angeles on at Exposition Park across from USC. It's free to walk, everyone's welcome. To register to donate, please visit us at
http://action.lung.org/site/TR?pg=informational&sid=7050&fr_id=10130
7:30 am: Check-in, festivities, heroes and more…
9:30 am: Walk starts
Exposition Park
Exposition Park Drive
Los Angeles, CA 90037
We are a force to be reckoned with. Only A Force of Many Can Stand Up To:
• the frightening rise of lung cancer in women
• the deadly disease that is COPD
• the daily challenges that asthma sufferers face
• pollution that threatens our lungs and our lives
Singer and actress,
Kristin Chenoweth
, will be onsite as our special guest to help kick off the LUNG FORCE Walk in Los Angeles! Hear Kristin talk about her personal experience living with asthma and an exciting public service campaign she is a part of called Know Your Count! For more information, visit
www.KnowYourCount.com.
Join our emcees,
Whit Johnson
&
Daniella Guzman
, co-anchors of "Today in LA" morning news on NBC4 Southern California on Saturday, November 1, at LUNG FORCE Walk - Los Angeles in Exposition Park! This year's exciting event includes
LUNG FORCE passport travel
, family fun, musical performances, a special appearance by the
Laker Girls
, LUNG FORCE Hero meet & greet, and a wonderful 5K walk in the park as well as a LUNG FORCE loop option --- a shorter route for those with breathing difficulties.
With your participation and help, our LUNG FORCE Walk will make a difference in lives that desperately need it. Register today, because now is the time to raise our voices against lung cancer—and for lung health. Now in its second century, the
American Lung Association
is the leading national organization working to save lives by improving lung health and preventing lung disease. With your generous support, the American Lung Association is "Fighting for Air" through research, education and advocacy. For more information about the American Lung Association or to support the work it does, call 1-800-LUNG-USA (1-800-586-4872) or visit
www.lungforce.org
For more information or to register for the event
please click here

http://action.lung.org