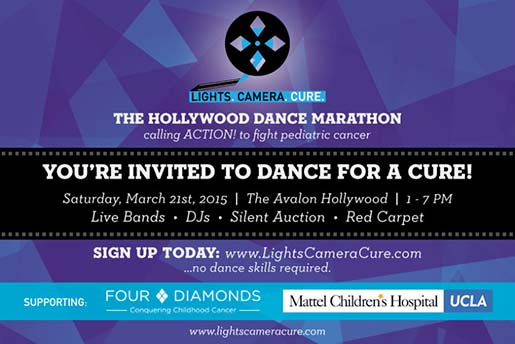 "

Lights Camera Cure Announces Its Latest Dance Moves for the 2015
Hollywood Dance Marathon

4th Annual Event Benefitting the Fight Against Pediatric Cancer


LOS ANGELES, CA (February 23, 2015) –The Hollywood Dance Marathon steps up its fundraising efforts with the 4th annual charity benefit on March 21, 2015. Produced by Los Angeles-based Lights Camera Cure ("LCC"), this citywide dance marathon puts a new spin on "Old Hollywood" charity benefits. The event goes beyond being in the swing of fashionable fundraisers with a hip, high-energy, six-hour dance party staged at the historic Avalon Theater. Proceeds from the 2015 event will go to pediatric cancer programs at Mattel Children's Hospital UCLA and the Four Diamonds Fund at Penn State Hershey Children's Hospital.
The dance card for this year's celebration will feature celebrities and VIP's on the Red Carpet, non-stop entertainment (bands, musical performers, DJ's and dance groups), and a silent auction of one-of-a-kind items. Last year's auction included diamond jewelry, LA Dodgers tickets, Ellen Show tickets, autographed items by TV casts, and more. The event will be hosted by film and TV star Devon Werkheiser (Ned's Declassified School Survival Guide) and feature Celebrity Ambassadors Scott Michael Foster (Greek, Chasing Life) and Jonathan Bennett (Mean Girls, Dancing with the Stars), plus other celebrity guest hosts to be announced.
Dancer registration is now open for anyone who wants to dance for a cure at this entertaining fundraiser. People can sign up to dance, individually or in a team, and raise funds from family and friends through their own dancer webpage. No dance skills required. For full information, go to
www.LightsCameraCure.com
. The community can also support the event and enjoy the show by purchasing general admission or VIP tickets, on sale now. In its first three years alone, the event has reeled in $200,000 to benefit and raise awareness for pediatric cancer research and support.
Over 1,000 people attended the 3rd Annual Hollywood Dance Marathon last March, hosted by Devon Werkheiser with Guest Hosts including Gia Mantegna (The Frozen Ground), Taylor Spreitler (Melissa & Joey), Amy Paffrath (Dating Naked) and Sandra Mitchell (KCAL News). The event also featured musical performances by Alyson Stoner, Kait Weston, Stefano and Dave'Ron Madden, Hoist the Colors, and Danny & the Tramp. Past celebrity attendees have included Joe Mantegna, Moby, Ian Harding, Melissa Joan Hart, Brandon Routh, Laura Prepon, Scott Michael Foster, Rosie Grier, Adam Sevani, Drew Seeley, Christian Serratos, Spencer Locke, and Dan Curtis Lee.
The Hollywood Dance Marathon is produced by Lights Camera Cure ("LCC") and the Penn State Los Angeles Alumni Chapter ("PSULA"). LCC was founded by a group of Penn State University alumni living in Los Angeles, Gary Werkheiser, President of PSULA and Executive Director of LCC, was one of the founders. He said the group was inspired by
THON
, the Penn State student dance marathon held at the school's campus each February. This past weekend, THON raised over $13 million for the Four Diamonds Fund and the fight against pediatric cancer. Werkheiser said the group wanted to bring that sprit of philanthropy, FTK – For the Kids, to Los Angeles. The event has motivated the group to do more as they have learned more about pediatric cancer and those families affected by it. "Our passion has grown by meeting the families, social workers, and doctors who work daily to deal with this disease. I feel fortunate to have healthy children, and now I'm blessed to have this opportunity to give back and help children and families struggling with this pediatric cancer."
For more information about the event and to sign up as a dancer, visit
www.LightsCameraCure.com
,
www.facebook.com/LightsCameraCure
or Twitter
@LCCHollywood
. Those interested in sponsorship involvement can visit
www.LightsCameraCure.com/sponsor
or email
sponsorship@LightsCameraCure.com
.
About Lights Camera Cure Corp.
Lights Camera Cure (LCC) is a California non-profit corporation founded in 2013 by several individuals affiliated with the Penn State Alumni Los Angeles Chapter ("PSULA"). The mission of Lights Camera Cure is to support children and families battling pediatric cancer by raising funds and awareness for support and research programs through community based fundraising and service activities. The organization is a 501(c)(3) tax-exempt charitable organization.
About Mattel Children's Hospital UCLA
Mattel Children's Hospital UCLA, one of the highest-rated children's hospitals in California, is a vital component of Ronald Reagan UCLA Medical Center, ranked the fifth best hospital in nation and best in the western United States by U.S. News & World Report. Mattel Children's Hospital offers a full spectrum of primary and specialized medical care for infants, children and adolescents. The hospital's mission is to provide state-of-the-art medical and surgical treatment for children in a compassionate atmosphere and to improve the understanding and treatment of pediatric diseases. Proceeds from the Hollywood Dance Marathon will go to two programs at the hospital: the Daltrey Townsend Teen and Young Adult Cancer Program, which provides care and support for patients in this age group, and the Stem Cell, Cellular Therapy and Transplantation Research Program, which performs cutting edge research into new and innovative treatments for pediatric cancer and all cancers. For more information, visit www.uclahealth.org/mattel
About The Four Diamonds Fund
The Four Diamonds Fund was founded by Charles and Irma Millard in 1972 to honor their son Christopher, who died from cancer at age 14. The mission of the Four Diamonds Fund is to conquer childhood cancer by assisting children treated at Penn State Hershey Children's Hospital and their families through superior care, comprehensive support, and innovative research. In 1999, the Fund established the Four Diamonds Pediatric Cancer Research Institute with a $5 million endowment. Today, approximately 85% of the Fund's revenues go toward research to end childhood cancers. In addition, the fund offsets the cost of treatment not covered by insurance and supports the medical team that cares for the children. For more information, go to www.fourdiamonds.org.
For map and location click

Here