LAWineFest Celebrates 10th Anniversary as
Top Wine Event on May 30 & 31

Los Angeles' Signature Celebration of Wine Presents
NEW Boutique Winery Tent, Main Stage Shows,
Local Craft Breweries and Much More for 2015
LOS ANGELES, CA; (February 19, 2015) Los Angeles' signature wine event invites first time visitors and loyal fans to sip, explore and enjoy hundreds of wines and beers al fresco at the historic Raleigh Studios in Hollywood on Saturday, May 30 and Sunday, May 31.
LAWineFest is one of the city's wine festival pioneers, founded 10 years ago in 2005 by wine expert and educator Dr. Joel Fisher as a way to bring all things wine to the City of Angels in a fun, relaxed environment. Over the years, it has established itself as the largest consumer oriented wine event in Southern California.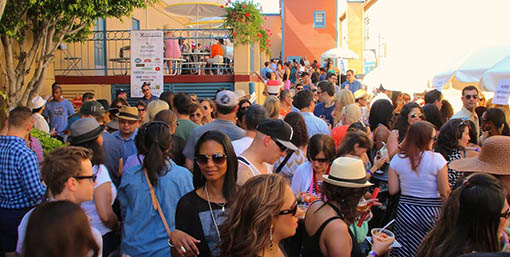 Wine & Craft Beer
From San Diego to Napa Valley to Mendocino, California's best wine regions will be pouring, along with representatives from up-and-coming regions as well as winners from the LA International Wine Competition. Artisanal breweries will be out in full force this year, including Southern California's own Claremont Craft Ales and King Harbor Brewing Company; and Washington's Reel Brewery. For the full list of exhibitors, visit
LAWineFest.com/2015Exhibitors
.
Main Stage Shows
The LAWineFest Main Stage will feature entertaining and educational shows presented by local experts on a wide range of engaging topics, including wine and mixology. See
LAWineFest.com
for details and show updates, which will be
added on an ongoing basis.
Food, Artisan Boutiques & Music
Folks hungry for more than liquid refreshment will find affordable bites from some of L.A.'s top food trucks, parked throughout the festival. LAWineFest is proud to host a diverse group of culinary offerings, including Kogi BBQ, Grilled Cheese Truck, Surfer Taco and many others selected from 2014 LAist and Gayot "Top 10" lists. Attendees will also enjoy live music while browsing the event's artisan boutiques, which sell a range of gourmet foods, wine related accessories, and local lifestyle goodies.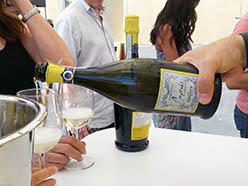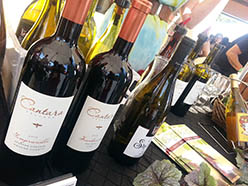 Boutique Winery Garden
New for 2015! For a special addon ticket, wine enthusiasts can explore exclusive small batch pours from a dozen notable boutique wineries. These wines are very hard to find, and the Boutique Winery Tent is a great addition for adventurous event attendees. Highlighted wine regions include Santa Barbara, Sonoma, Paso Robles and more. Admission to the Boutique Winery Tent will be capped so tickets are limited.
Tickets
$85 single, $160 couples. $15 designated driver ticket. Tickets may be purchased at the door or in advance at
LAWineFest.com
; various promotions will be offered in the months leading up to the event, so see website for current pricing.
Boutique Winery Tent is a special addon ticket.
Admission price includes a complimentary logo glass, unlimited beverage tasting; plus bottled water and coffee.
LAWineFest At a Glance
WHAT:
10th Annual LAWineFest
WHEN:
Saturday, May 30 and Sunday, May 31, 1-5pm
WHERE:
The historic Raleigh Studios, 5300 Melrose Avenue
in Hollywood, CA 90038
TICKETS:
Oneday: $85/single; $160/couple; $15 designated driver. Visit
LAWineFest.com
to purchase tickets through Eventbrite.
SOCAL MEDIA:
Facebook.com/LAWineFest
|
Twitter: @ LAWineFest
Instagram: L AWineFest
|
Hashtag #LAWineFest
PARKING:
Street parking (metered on Saturday) and paid parking available at Paramount Studios lots on Bronson and Van Ness.
L.A.'s largest and longest running consumer wine tasting event, LAWineFest aims to make the world of wine fun and accessible for Angelenos. Founded in 2005 by renowned wine personality Dr. Joel M. Fisher, LAWineFest proudly supports local organizations while serving as the Southland's signature celebration of all things wine. For more information, visit
LAWineFest.com
.
2015 Charitable Beneficiary
LAWineFest is partnering with The Sunshine Kids, a nonprofit organization dedicated to children with cancer. Established in 1982, they are committed to providing positive group activities and emotional support for young cancer patients. The Sunshine Kids provides a variety of programs and events, free of charge, for kids who are receiving cancer treatments in hospitals across North America.
About Los Angeles Magazine
LAWineFest's official media sponsor, Los Angeles Magazine is the definitive resource and indispensable guide for in-the-know and on-the-go Southern Californians. A regional magazine of national stature, Los Angeles Magazine is the authority on everything from cutting edge cuisine, style trends, and thought leadership to all that is the Best of L.A. Available every month in print and every day online at LAMag.com, Los Angeles Magazine covers the people, lifestyle, culture, entertainment, fashion, art and architecture, and news that define Southern California.
About the Southern California Acura Dealers Association
The Southern California Acura Dealers Association offers a full line of technologically advanced performance luxury vehicles through a network of 18 dealers within Orange, Los Angeles, San Bernardino and Riverside Counties. The Acura lineup features five distinctive models: the new TLX performance luxury sedan, the uncompromising RLX flagship sedan, the ILX compact sport sedan, the awardwinning MDX sportutility vehicle, and the RDX luxury crossover SUV.
For more information or to purchase tickets
please visit

http://www.eventbrite.com



For map and location click

Here!